BMW i3 with its carbon fiber body is perfect for car audio enthusiasts. The car is quiet, sturdy and pretty good soundproofing in stock. But even with Harman Kardon sound system there is lack of low end bass not to mention poor base audio. Trunk is smallish and many people don't want to waste that precious cargo space with a big subwoofer.
Bigger is of course better when it comes to subwoofers, but there are some compact options that will give enough bass for everyday listening and some might even surprise.
P.S. Subwoofer in the main picture is Ground Zero GZIB 3800SPL and really won't fit to i3 trunk when rear seats are in regular position. But we DID test that and even with just 0,5kW power the bass was LOUD.
It this blog article we like to introduce few of our favourite "all in one" active subwoofers. Active means that there is internal amplifier so all you need is audio signal and power. For most of these tests we used Match UP 7BMW amp that gives line level signal and remote and is direct replacement for OE Harman Kardon amp. In this article we don't dive into how to get signal from base audio or HK as this is subwoofer review. But there's info with pics in last chapter how to the power sub or amp both Harman Kardon and base audio options.
Match UP 7BMW installed.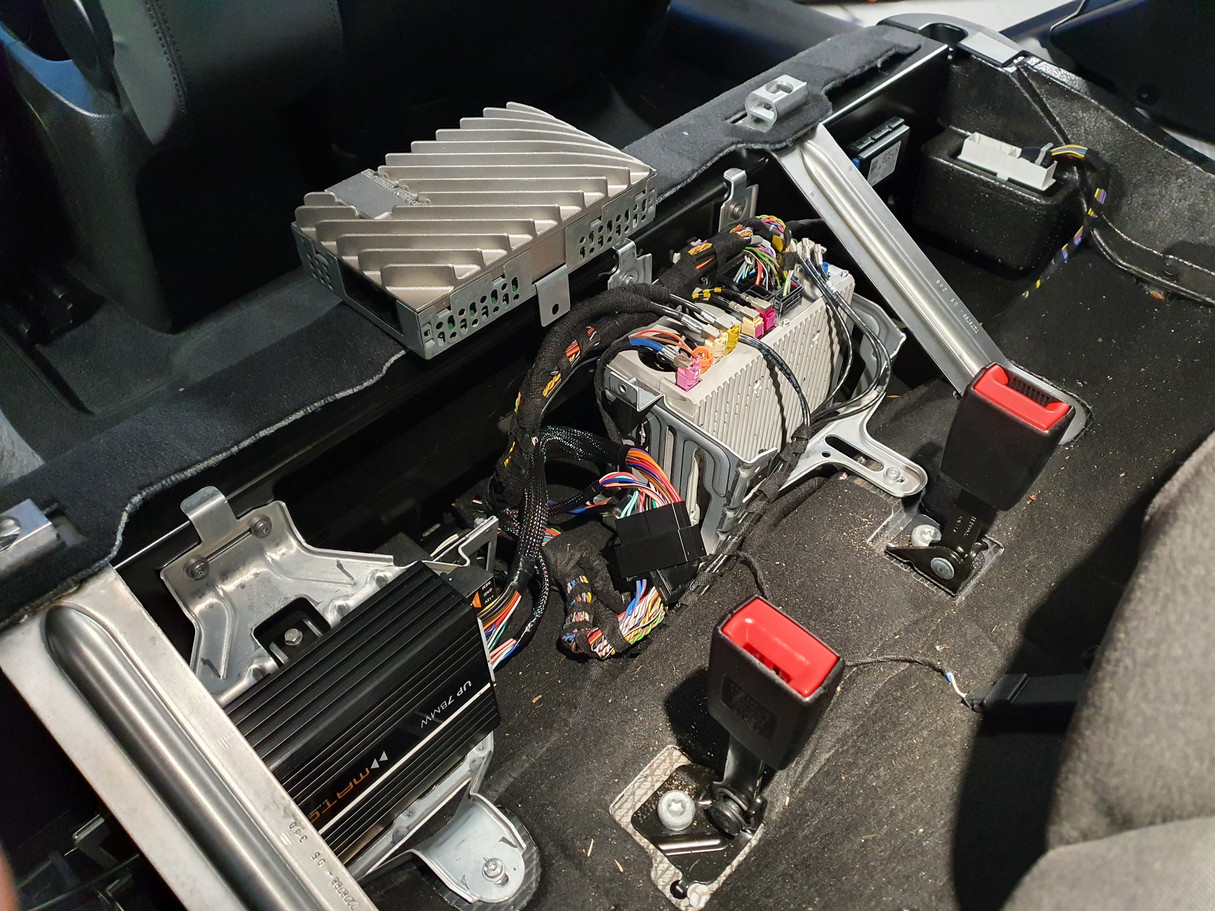 Audison APBX 10 and 08 AS2 active subwoofers
Audison APBX 10 AS2 is compact around 13L sealed 10" active sub with 400Wrms / 800Wmax internal amp. Still it draws just 30A max power so very suitable for electric cars. It can be installed firing downwards for deeper bass or upwards for punchier kick. If installed downwards there comes 4 velcro pads that needs to be installed and those grap really hard on trunks fabric floor. Also you can put stuff on top of the enclosure so quite minimal footprint overall. And with quick terminals it is easy remove if cargo space is needed.
Bass is quite accurate and output is unbelievable for its size, but maybe some "roundness" in bass kick that is common with small sealed enclosures. But overall sub works nicely. Sub comes with remote so you can adjust level of bass from drivers seat. One special feature in this sub is that it is equipped with Dynamic Bass Tracking (DBT) technology that allows you to crank it up all the way without need to worry about clipping. DBT monitors incoming signal and smoothens distortion so that it sounds good even at max so no need to be carefull sub does all the job for you to give max pressure. Highly recommended!
More detailed info in Audison website: https://www.audison.eu/products/apbx-10-as2/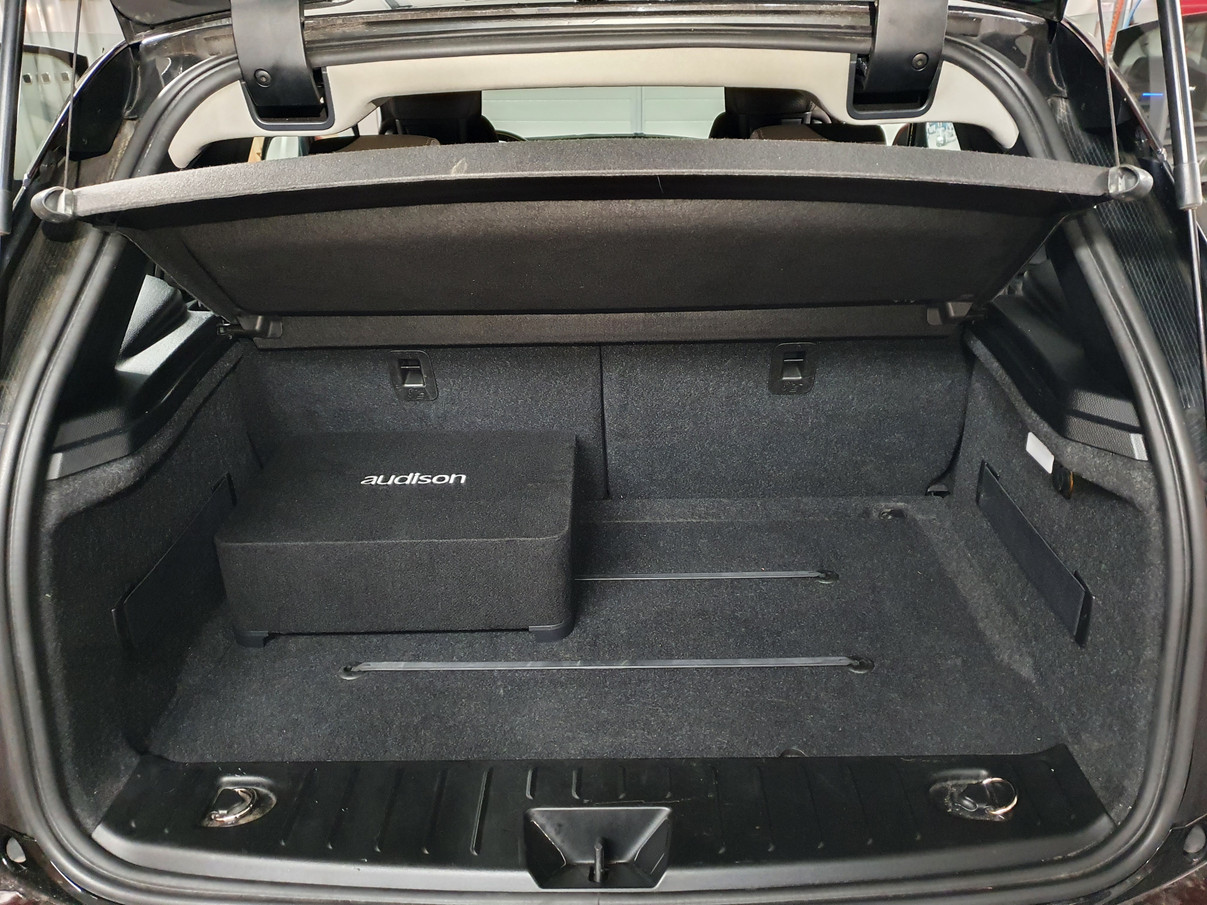 Audison APBX 08 AS is the smaller 8" version of the same sub with around 8L of volume and 250Wrms / 500Wmax internal amp. Sounds quite the same as bigger version, but can't produce same output levels. Still more than enough for everyday listening and some more. Good thing with this is that it's even smaller so you can install it to the back seat in trunk so that tilts with the rear seat. This gives you even more cargo space. Also it has quick release plugs for all the wires so you can remove it completely very quickly if more cargo space is needed.
More detailed info in Audison website: https://www.audison.eu/products/apbx-8-as2/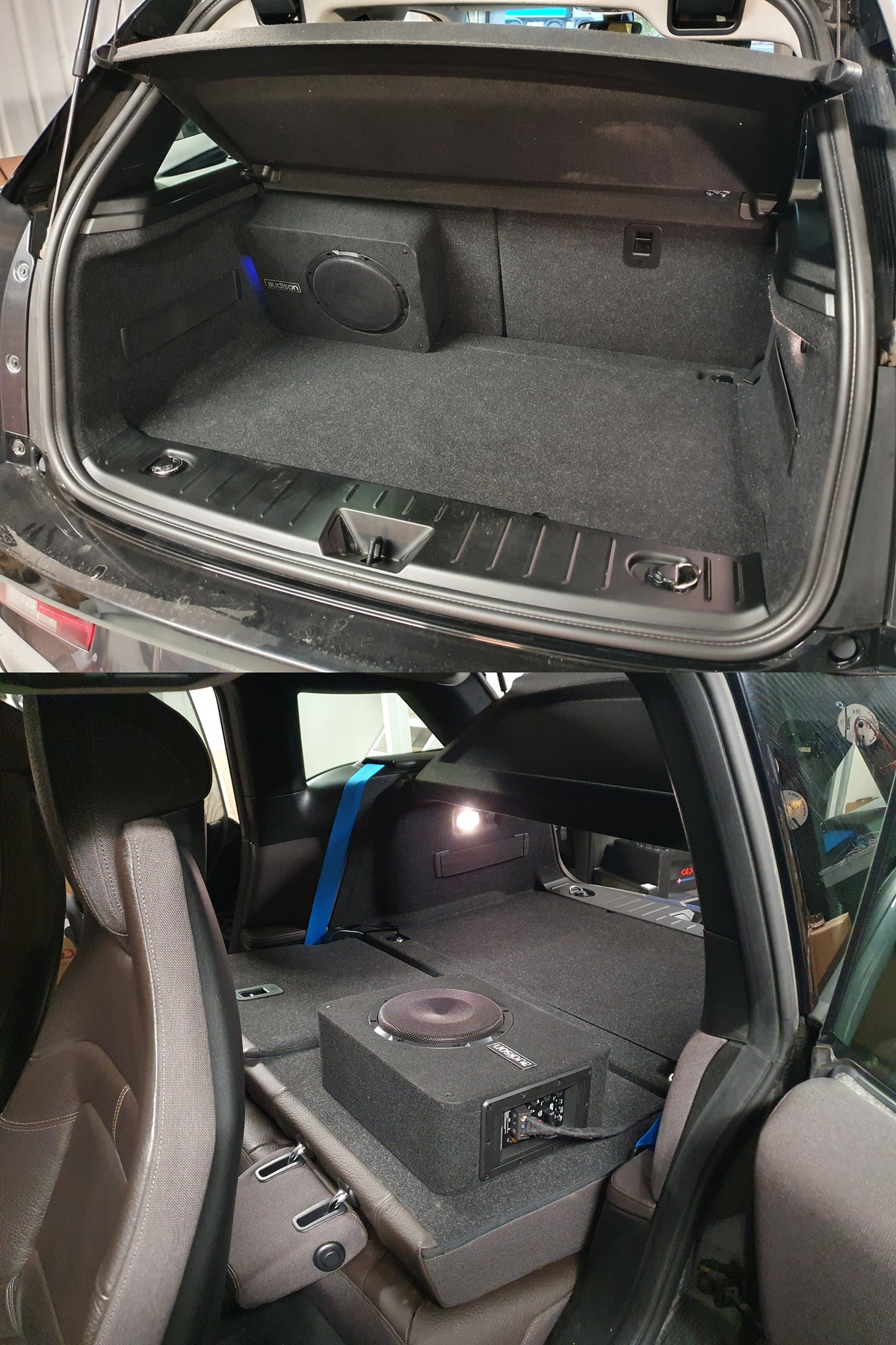 DD Audio RL-AE 10 active
DD's new RL-AE 10 is one of the sturdiest flat subs in the market. It has 10" subwoofer in aluminium cast enclosure with 2 passive radiators and power rating of 200Wrms / 700Wmax. It also includes remote level controller and fixing brackets. This time signal was taken directly from OE Harman Kardon amp using subs hi-level inputs. We didn't use bass speakers (kickwoofers) signals as those are hi- and lowpassed in HK amp. There are always four pure (fronts&rears) hi-volt line level signals coming from head unit to the amp so we tapped front signals to the sub and it works with hi-inputs nicely. Same thing in every BMW that has analog amp for example HiFi 676 option, that is quite the same as i3's Harman Kardon.
Subwoofer fits nicely to the side of the trunk and doesn't take hardly any space. Some modification/imagination is needed when fixing the sub as brackets goes wrong way (up/down) and height is not enough, but nothing that hard. It's also possible to attach behind the rear seat drilling holes and using the brackets.
Sound from the sub is nice and detailed. RL-AE 10 gives that missing low end even in Harman Kardon at normal listening levels, but reality hits when cranking up the volume. Max sound pressure is quite easily reached and then there is no more. Good thing with this sub is that it won't distort, so there's some safe measures build inside so you play it at max when needed. But laws of physics say that subwoofer needs some air volume in enclosure to produce sound pressure and flat subs won't provide that beyond certain levels. Still very impressive flat sub and bes one we have heard. Maybe if installed to front this will perform even better.
More detailed info in AI-Group website: https://www.aigroup.fi/car-hifi/SUBWOOFERITJATARVIKKEET/Aktiivisubbarit/10aktiivisubbarit/dd-audio-rl-ae10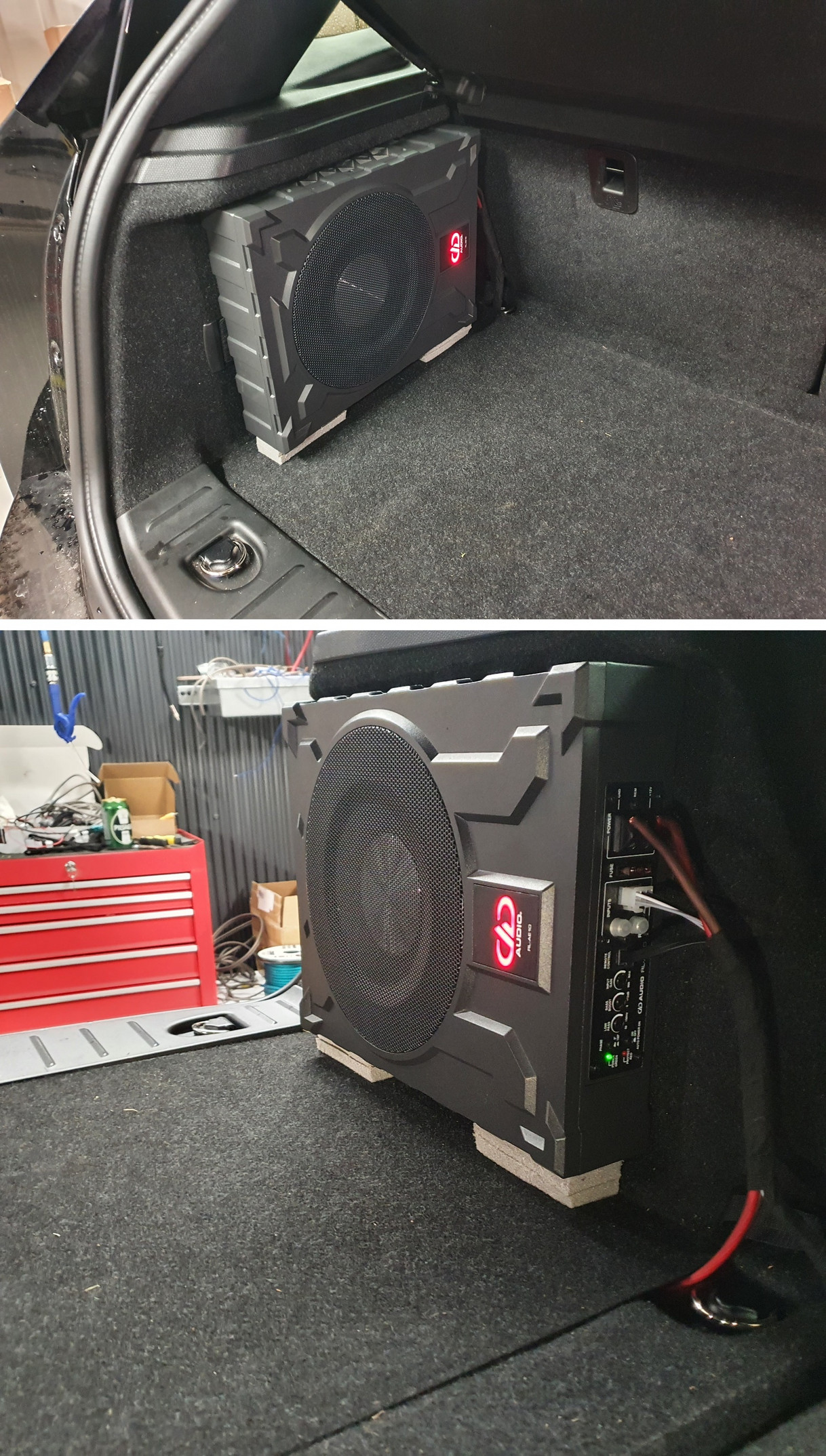 DD Audio LE-ST06D-D2 + DM500a
DD Audio LE-ST06D-D2 is small port tuned enclosure with 6,5" Redline series 506d-D2 woofer. This time we used DD Audio DM500a (discontinued model) mono amp that delivers 500Wrms @ 1ohm and fits under the rear seat next to stock amp location (sorry no picture of that). It's always better to have more power available than less, but this woofer will perform well even with around 250Wrms amplifier.
Sound from this 6,5" sub is amazing. Enclosures tuning frequency is surprisingly low 38Hz for a small woofer and you can really feel the bass. Sound pressure is comparable to 10" sealed like Audison APBX 10 AS2 so DD Audio has done great job. Bass is detailed and this can handle all the power that amp gives, but need to be careful not to overdrive it. DM 500a amp comes with remote that has clipping led indicator so it's easy to avoid distortion and push this sub to the max.
When playing this nobody believes that it's only 6,5" speaker, until they see it. Highly recommended and won't take much space from the trunk!
DD Audio's product page -> https://ddaudio.com/series/le-s-series/?status=2&global=2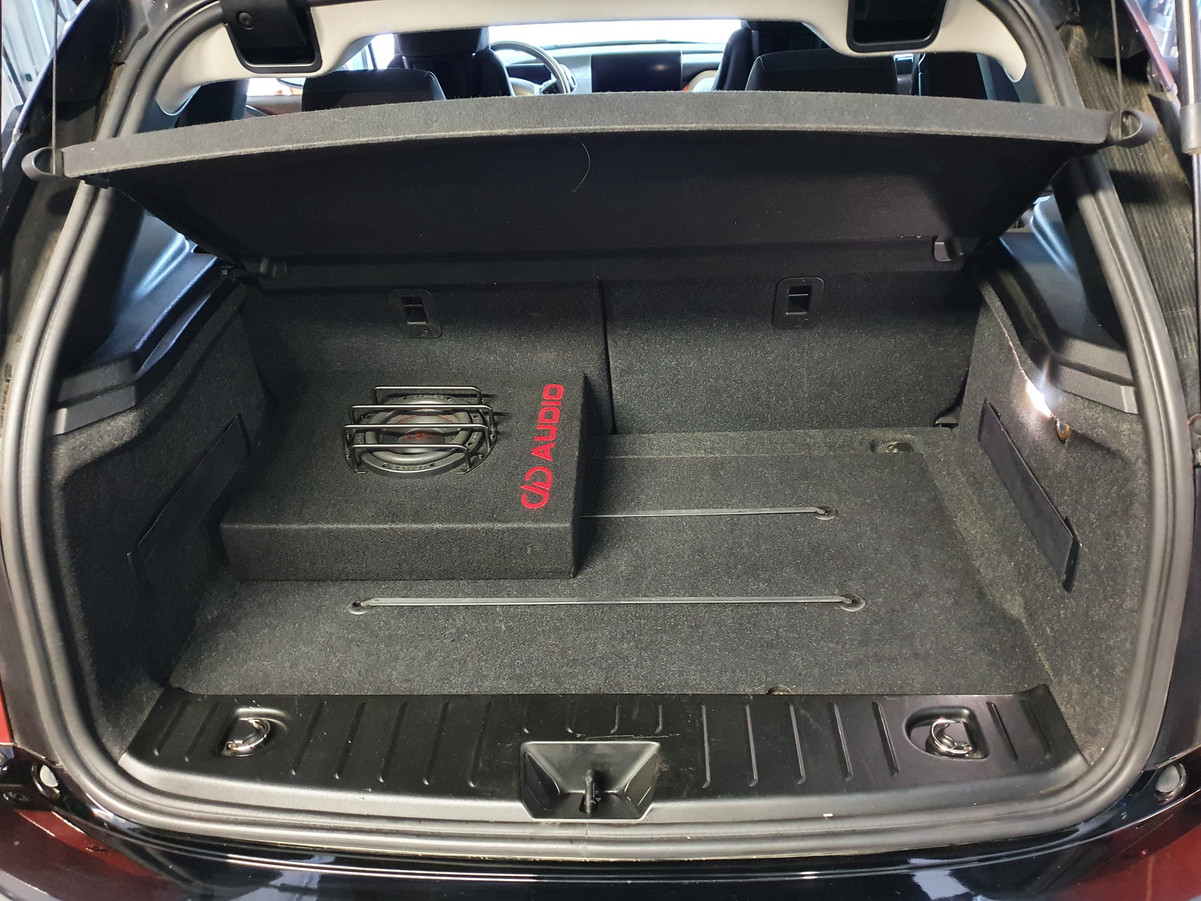 Ground Zero GZUB 10BR + AI-Sonic S2-A500.1
You want bass? Here it is but bass needs enclosure volume and you need to sacrifice some trunk space. Ground Zero GZUB 10BR is ready made enclosure using new GZUW 10SQ-D2 subwoofer and gives quite a punch even that it's sound quality subwoofer. Enclosure is perfect fit to i3 in all ways - hight, width, port and terminal location. And you can still tilt left side of the rear seat. This ported enclosure gives that sound pressure that you can feel and does it very detailed. So this is currently in our i3 demo car and might be for a long while.
GZUB is passive sub so it needs separate amplifier to power it. We recommend at least 500Wrms amp power @ 1ohm to get most out of it as rated constant power handling is 600Wrms. Mono sub amps are common in markets, but this time we decided to use brand new AI-Sonic S2-A500.1. AI-Sonic is Finnish car audio brand that has been developed over 5 years by long time car audio enthusiasts and professionals from AI-Group. Every detail and usability is considered carefully and quality is top notch. One of our favourite thing is really linear remote that has led indicator for clipping and low voltage, so you know when you hit the limit both amp and sub.
Amplifier is not the smallest because of of oversized components and heat sink, but will last long and best of all low pricing. You can find all AI-Sonici products -> LINK
All products with Eng descriptions can be found from AI-Groups website -> LINK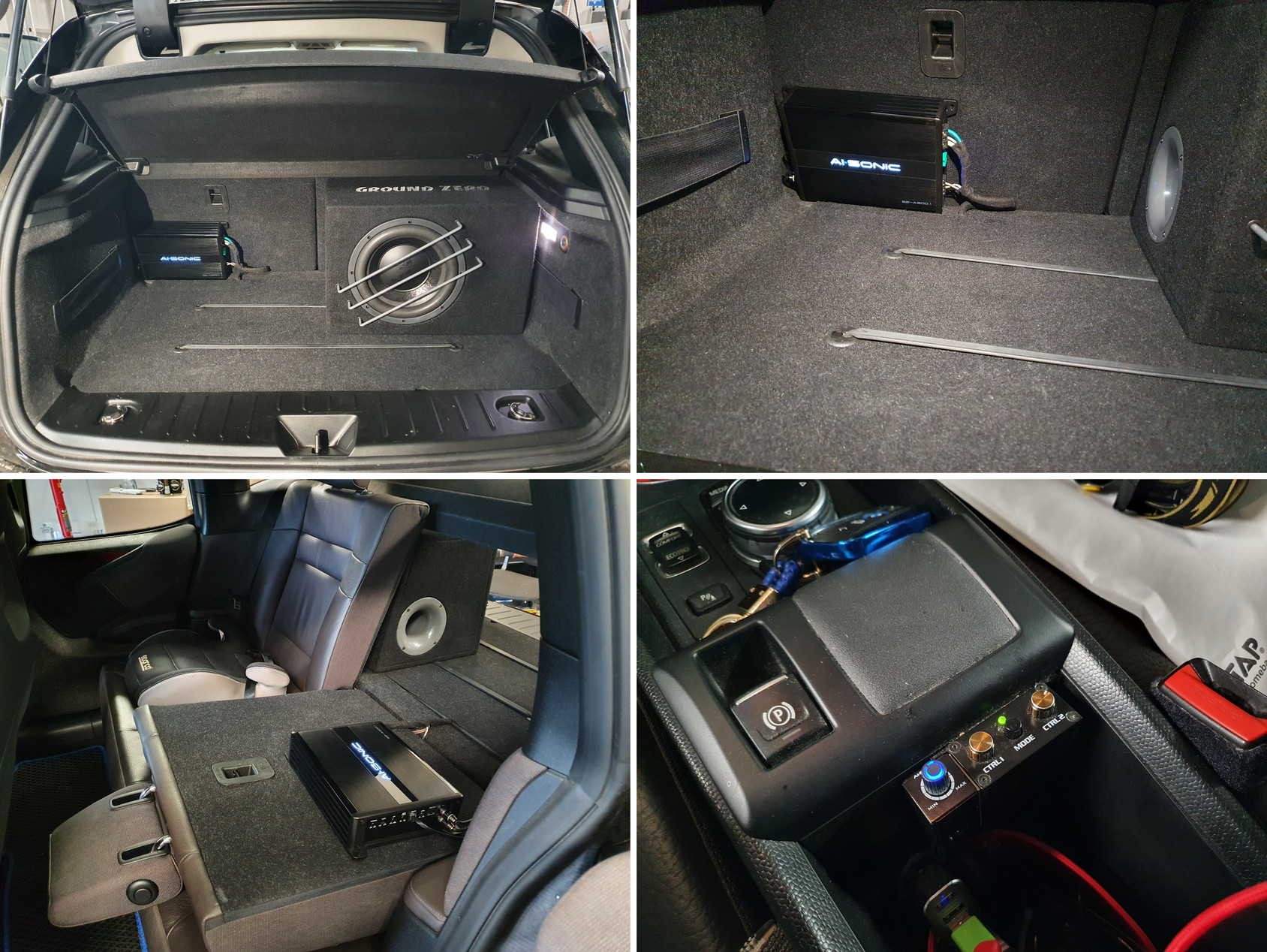 Powering the amp or active subwoofer
The most common question from us regarding i3 is where to get power? Even thought i3 is electric car there is also regular 12V battery at the front trunk or frunk. You don't need to tap to that battery as it gets power directly from DC-DC converter that is top of the electric motor in rear. There ain't any electronics between so it doesn't matter if you tap from 12V battery or straight from converter, that is capable about 170A constant output when "ignition" is turned on. Electric motor / driving the car is the main thing that uses most electricity so amplifiers are just drop in the ocean when thinking of consumption and range, but of course everything counts so better to use low consumption (amperage) amps when installing new car audio systems.
There are +/- poles in the DC-DC converter that you can tap into and both have threads inside the poles so you can use short 8mm bolt. That has been tested in several installs and works 100%, but nowdays we put minus (-) to the "chassis" ground point so that the cable needed is shorter.
Always use fuse near to positive terminal according to cable diameter and amplifiers power rating!!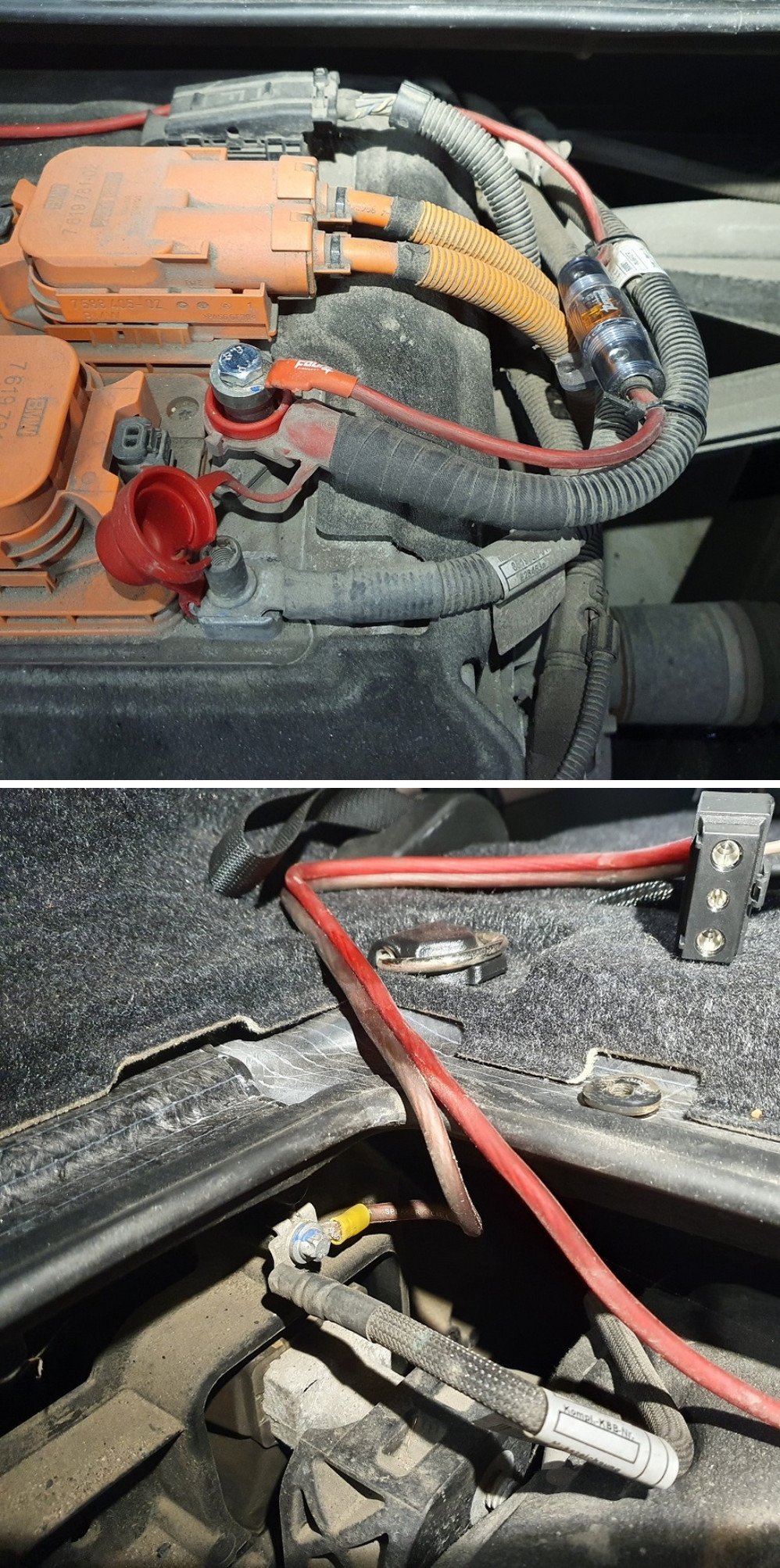 If any question please send us email -> info@audiokit.fi
We can design audio upgrade to your i3 and ship almost worldwide (tax free to non EU countries)!
Blog for i3 base audio is coming next...
- Kimmo / Audiokit