This article is continuum for i4 HK Audio Upgrade that you can read -> BMW i4 HK Audio Upgrade


Base Audio and HiFi differences
Base Audio and HiFi 676 are both mostly the same when it come to upgrading audio system. Both have just one RAM amp (Receiver Audio Module) that powers the speakers. RAM even looks same as in Harman Kardon and most likely is, but different software/coding inside. RAM amp is always 7ch, but in base audio 6ch is used. In HiFi option 7th channel is used for center speaker. In Base audio here are no pins connected to that seventh channel or even wirings to dash so forget about that if you are thinking easy way to add center speaker. Also usually in Base Audio center speaker grille is "dummy" so there are no holes where sound comes through so HiFi grille is needed (need to confirm).
Stock setups
Base Audio: 4" 8ohm midrange speakers and 6,5" 4ohm woofers in front doors and 4" 8ohm midrange speakers in rear doors. Very poor quality with ferrite magnets and woofers power handling 15W. All powered by RAM module. 6 channels total. RAM modules power output is purposely limited with poor quality and high impedance speakers.
HiFi 676: 4" 4ohm midrange + 1" tweeters and 6,5" 2ohm woofers in front doors. 4" 4ohm midrange + tweeter in center dash. Rear has just 4" 4ohm midrange speakers. Speakers are slightly better than in base audio with neodymium magnets and 25W woofers. All powered by RAM module. 7 channels total. Midrange and tweeter are always in same channel (parallel).
So both options lack subwoofer that is in HK option in the trunk. So most cost efficient way to make audio upgrade is to add subwoofer that takes away stress from door woofers that produce all the bass in stock. There is no point of installing better door woofers as stock amp won't give enough power. Maybe slightly better with some very dB sensitive ones, but subwoofer is the way to go.
Quality of the midrange speakers differ slightly - ferrite vs. neomagnets, different impedances and power handling, but really poor quality overall. HiFi 676 options has added tweeters but not the same quality anymore as used to be in E/F-series and same downgrade is in almost all G-series cars with iDrive 7/8. For example tweeters dome and magnet size is it about half compared to old ones.
In both options there are just 4" midranges in rear doors, but base audio has 8ohm and HiFi 4ohm. Rears are not so critical for front seat listening and stock speakers give ok that "all around sound". But sure those can be also upgraded and easiest way is to add 2-way coaxials where tweeter is embedded on top of midrange. 2-way components are possible with Harman Kardon grilles that goes next to inside opening lever, but for now we don't know part numbers of those (will be updated).
NOTE! Even though Base Audio has 8ohm 4" speakers you can replace those with 4ohm as BMW has purposely limited stock amps output with bigger impedance. There is also difference in woofers impedance base 4ohm hifi 2ohm. We haven't tested if 2ohm works but most likely yes.
So here are options how to proceed in both cases:
Base audio
More bass -> add a subwoofer.
More clarity and highs -> Replace front door speaker with 2-way components. This will also raise soundstage higher to the dash. HiFi tweeter housings are needed -> G26 Tweeter Triangles (BMW part nrs: 51335A3F207 / 51335A3F208). There is no need to worry about tweeter wires, as tweeters are connected to midrange speakers and all aftermarket component speakers comes with wires that has hi-pass crossovers filters in them.
For budget option also 2-way coaxials can be added, but soundstage stays on knee level.
Rear speakers -> 2-way coaxials or components with HK grilles.
More power and dynamic sound, better soundstage and frequency response, adjustability etc. -> Both above + better door woofers and DSP amplifier. Also center speaker can be added but needs speaker wire from amp and most likely HiFi grille.


HiFi 676
Same as in base audio but good also to upgrade center speaker to same brand as door components. In center there is just 4" mid + tweeter so half set is needed. No need to get tweeter housings as already present.


Suitable speakers
Space in doors midrange speakers is the most limiting factor as max depth from mounting points to the bottom is about 40mm or 1.57 inches. We have tested several and here are some options that will fit with comments. Best and most expensive first and link to the product in webshop. More speakers will be added to the list when fitment verified.
2-way components:
Morel IR-BMW42 (Reference series handcrafted high end speakers. Quite expensive but so is the car. Different adapters for doors, shelf and center)
Morel IR-BMW42 (Performance series handcrafted sound quality speakers. Different adapters for doors, shelf and center)
DLS CRPP-BMW1.4 (Good price / quality / sound. Different adapters for doors, shelf and center)
Phoenix Gold ZDSB100CS (Good price / quality / sound. One fixed midrange basket so just for doors )
Musway CSB4.2C (Cheapest and good quality, but metal dome tweeters not so good as silk domes above. Different adapters for doors, shelf and center)
Half set for center speaker (for hifi 676 or add-on to base audio with DSP amp):
2-way coaxials (base audio front/rear and HiFi rear):
Morel IR-BMW4INT (High end coaxials for base audio front/rear doors and hifi 676 rear doors)
Morel IP-BMW4C (SQ coaxials for base audio front/rear doors and hifi 676 rear doors)
Musway CSB42X (Good quality coaxials for base audio front/rear doors and hifi 676 rear doors)
Door woofers:
There is plenty of room for almost any 6.5" door woofers in market but needs adapters -> G26 door woofer adapters
For HiFi option and with DSP amp 2ohm woofers are preferred to get most power out of amplifier. We have used Audison woofers that are quite cheap, has good sensitivity, power handling and kick -> AP 6.5 2ohm
2ohm might also work with base audio as RAM amp looks the same, but we haven't tested yet. There is 4ohm version also from Audison -> AP 6.5 / AP 6.5P (new)
No plug&play connectors yet so need to cut wires and use universal connectors like Abiko.
Good active subs that fit under i4 trunk lid:
Audison APBX 8 AS2 (high level input / LOC built in and includes bass level remote)
Audison APBX 10 AS2 (high level input / LOC built in and includes bass level remote)
Add-a-sub-harness is needed if just sub is added (Made by Technic PnP).
So next are three upgrade cases with lots of pics. First is Base Audio where we added 2-way components to front doors with HiFi tweeter housings, coaxials to rear doors and 10" active sub to trunk. Second is HiFi 676 where we replaced front 2-way components and added 8" active sub to trunk. Third is also HiFi 676 with Match UP 8DSD amplifier, better component speakers and 10" active sub.
Base Audio speaker and sub upgrade
This i4 eDrive 40 had almost every possible factory option except audio was base so something needed to be done. Budget was limited so no DSP amp this time, but as mentioned before all ID7/8 cars have RAM-amp so speaker upgrade with sub is good option. Especially with base audio as there are no tweeters. In this case we installed Phoenix Gold ZDSB100CS components with HiFi tweeter triangles to front doors, Musway Musway CSB42X coaxials to rear doors and Audison APBX 10 AS2 active sub to trunk.
Car and parts & accessories for the install (forgot to put Musway CSB42X coaxials).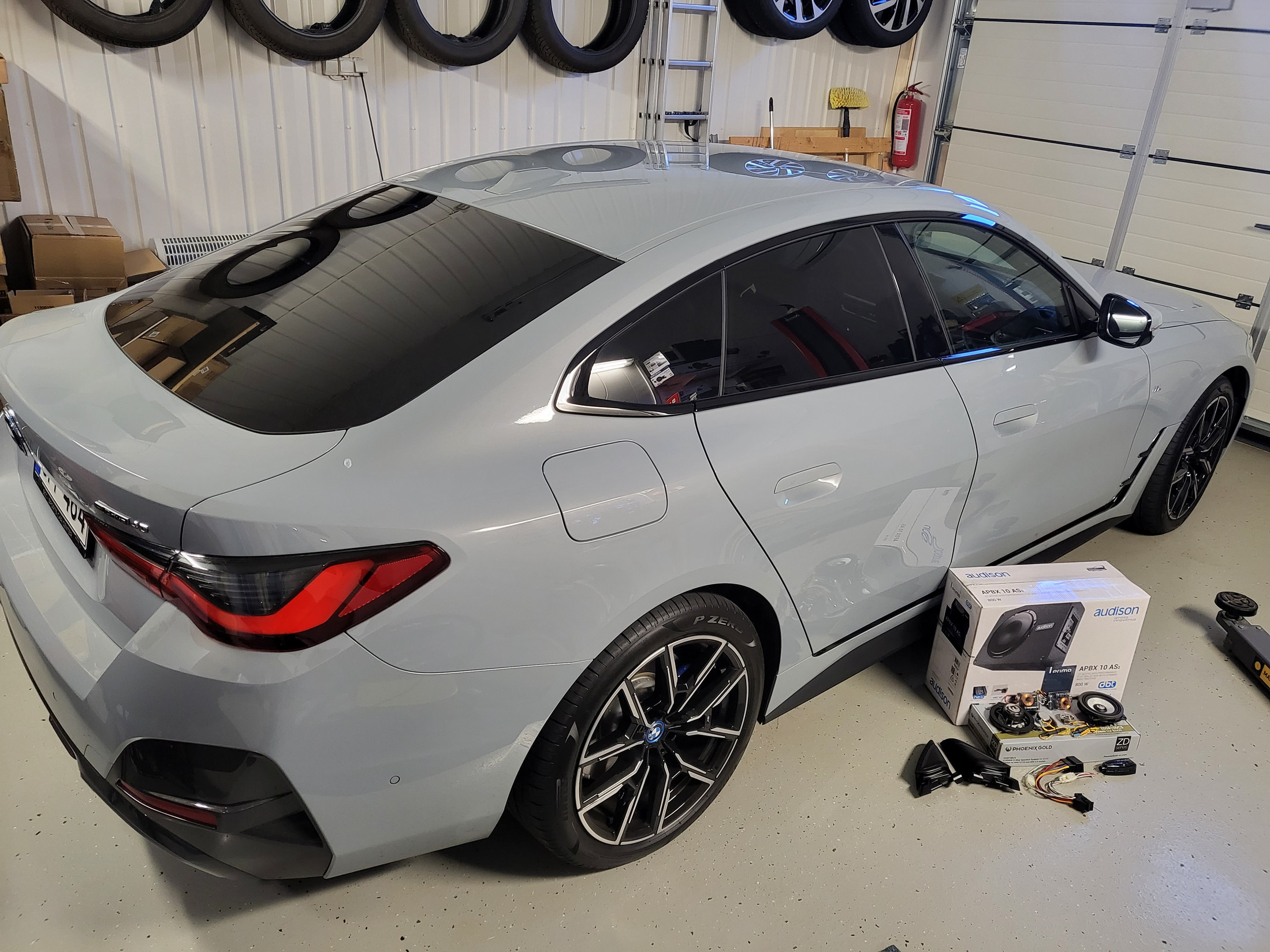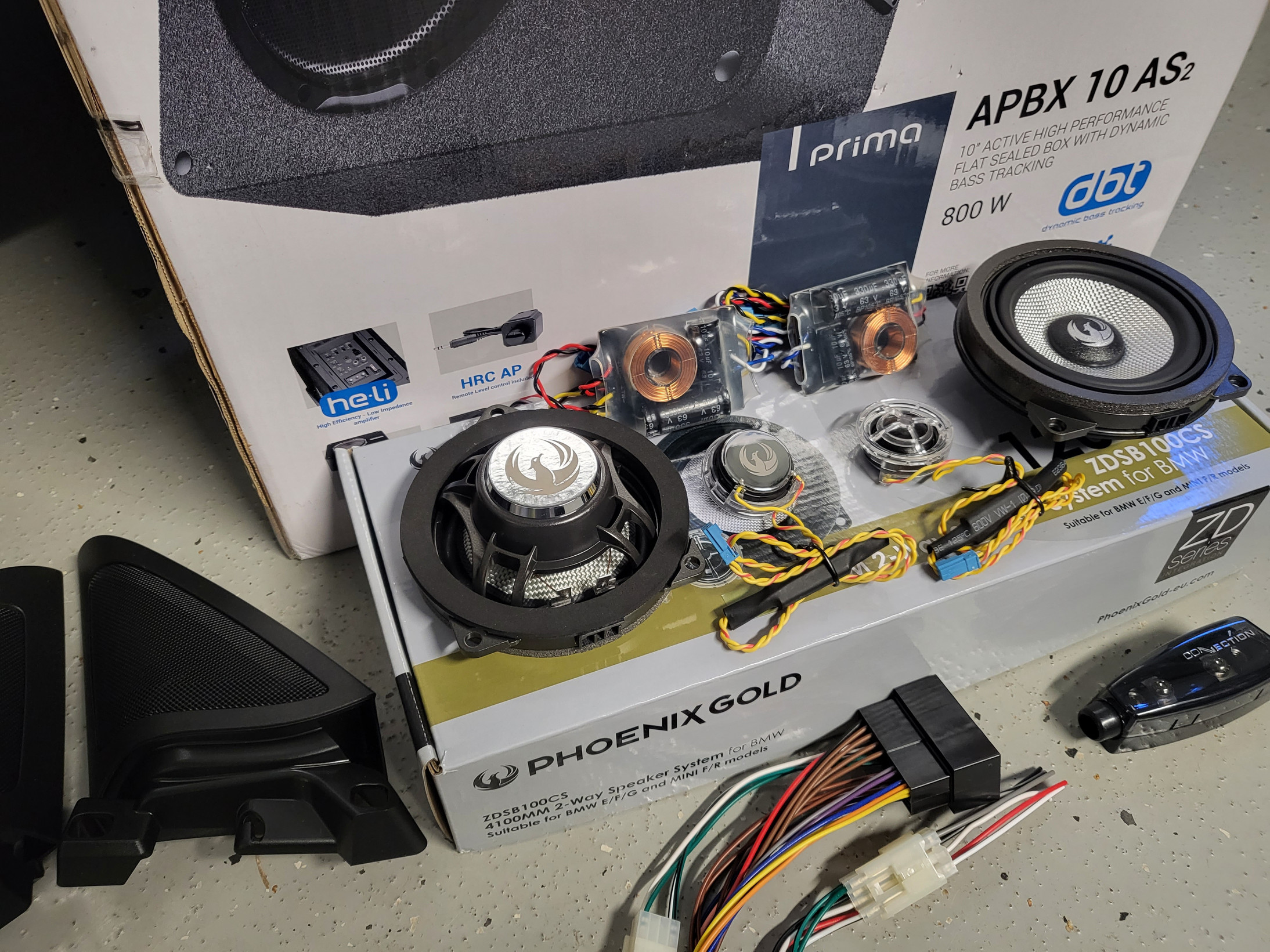 Installing tweeters and crossovers.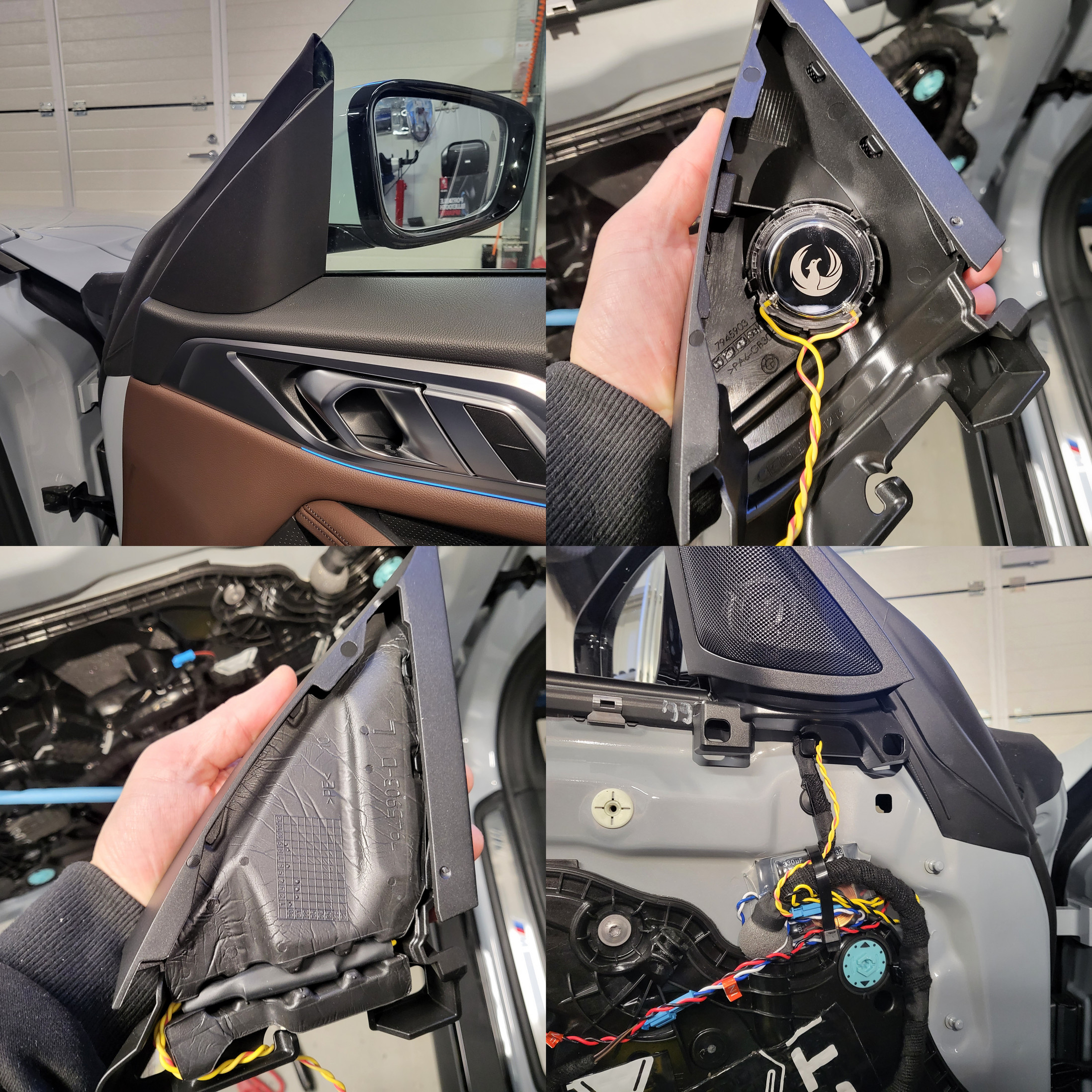 Closer look of Base Audio speakers. So mids are 8ohm and woofers 4ohm.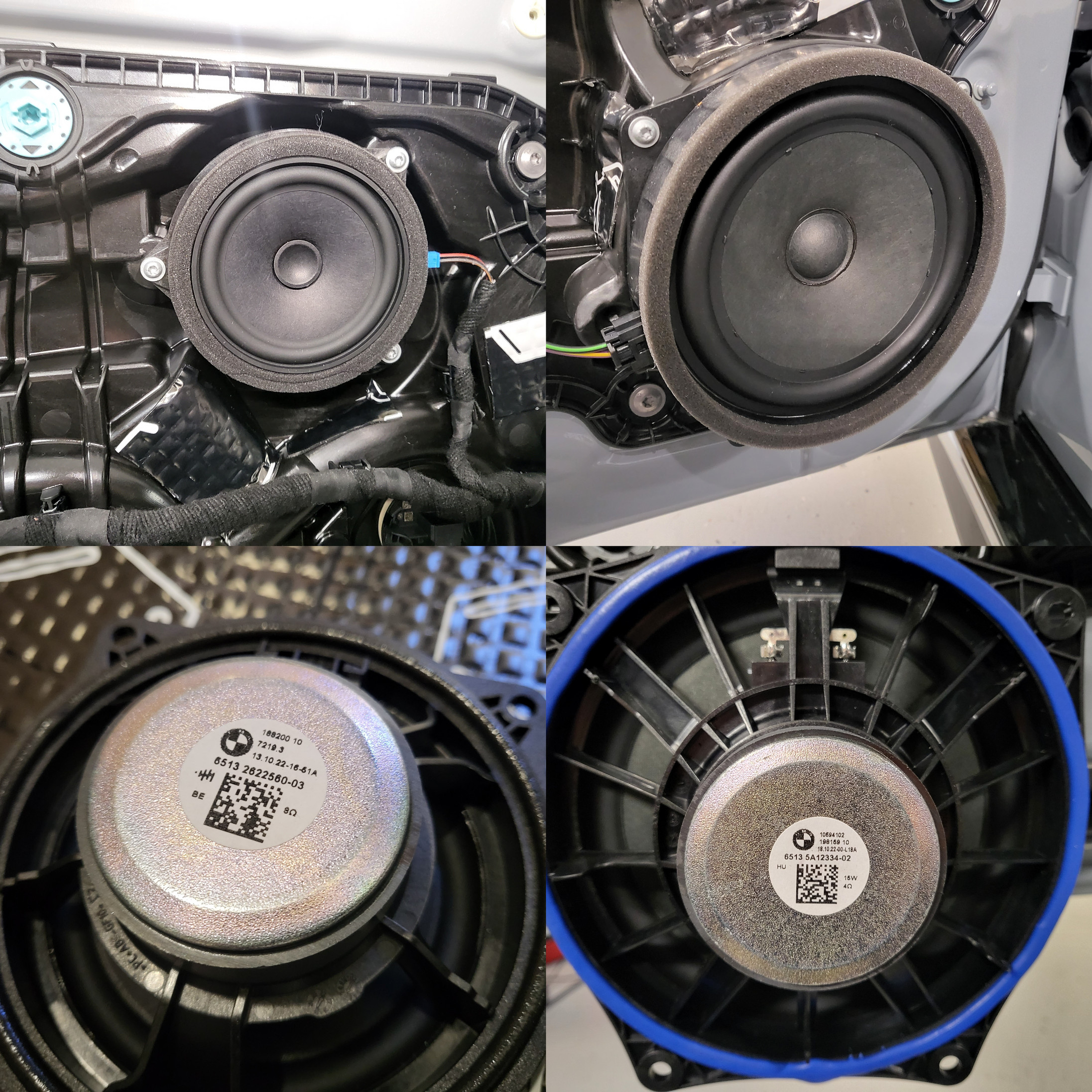 Phoenix Gold ZDSB100CS midrange installed.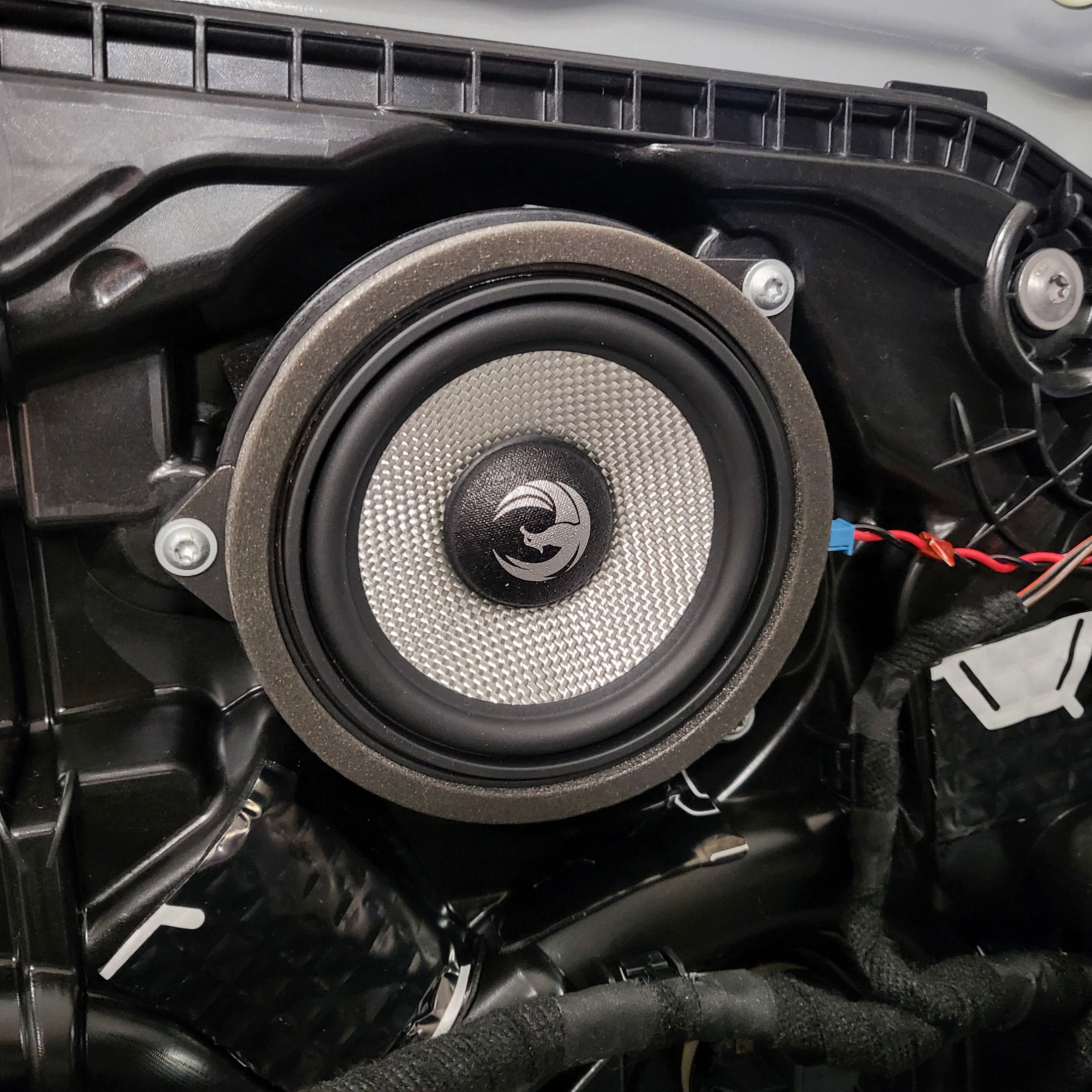 Phoenix Gold ZDSB100CS in place and silver cone looks good behind the grille. Also tweeter housings give a nice look.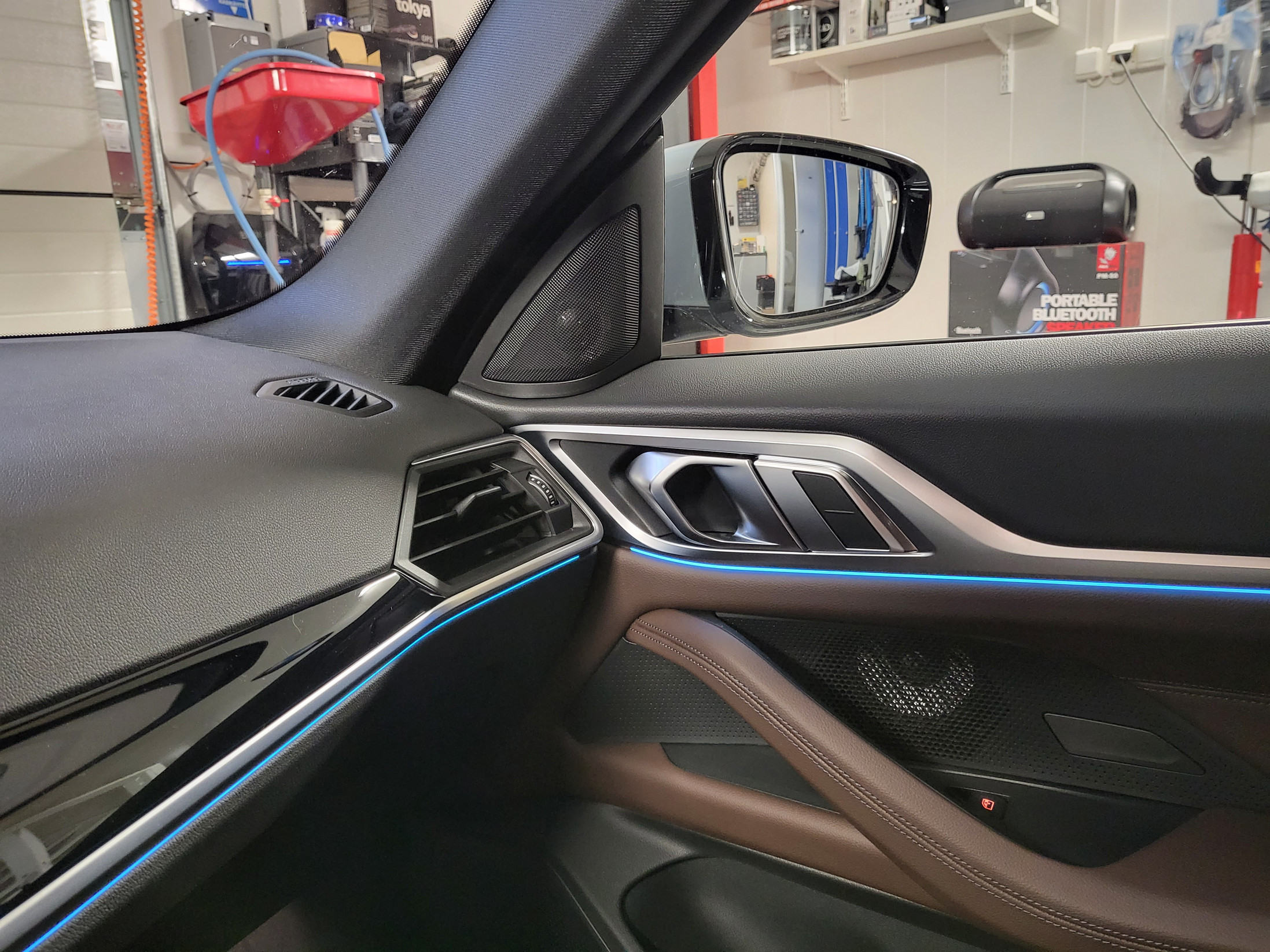 Rear speaker replacement. Just two screws and pull door pane HARD.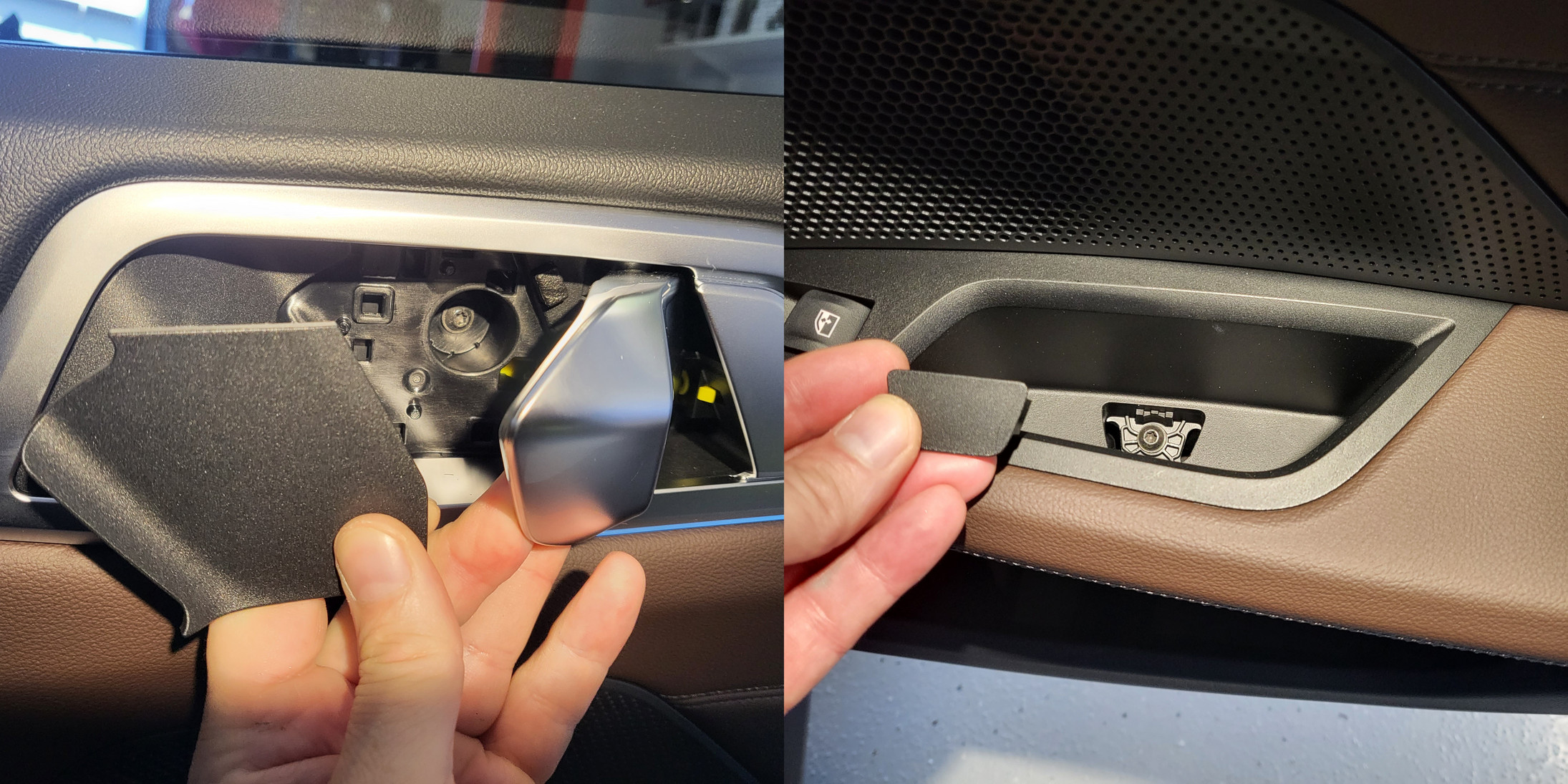 Rear midrange replaced with Musway CSB42X coaxial.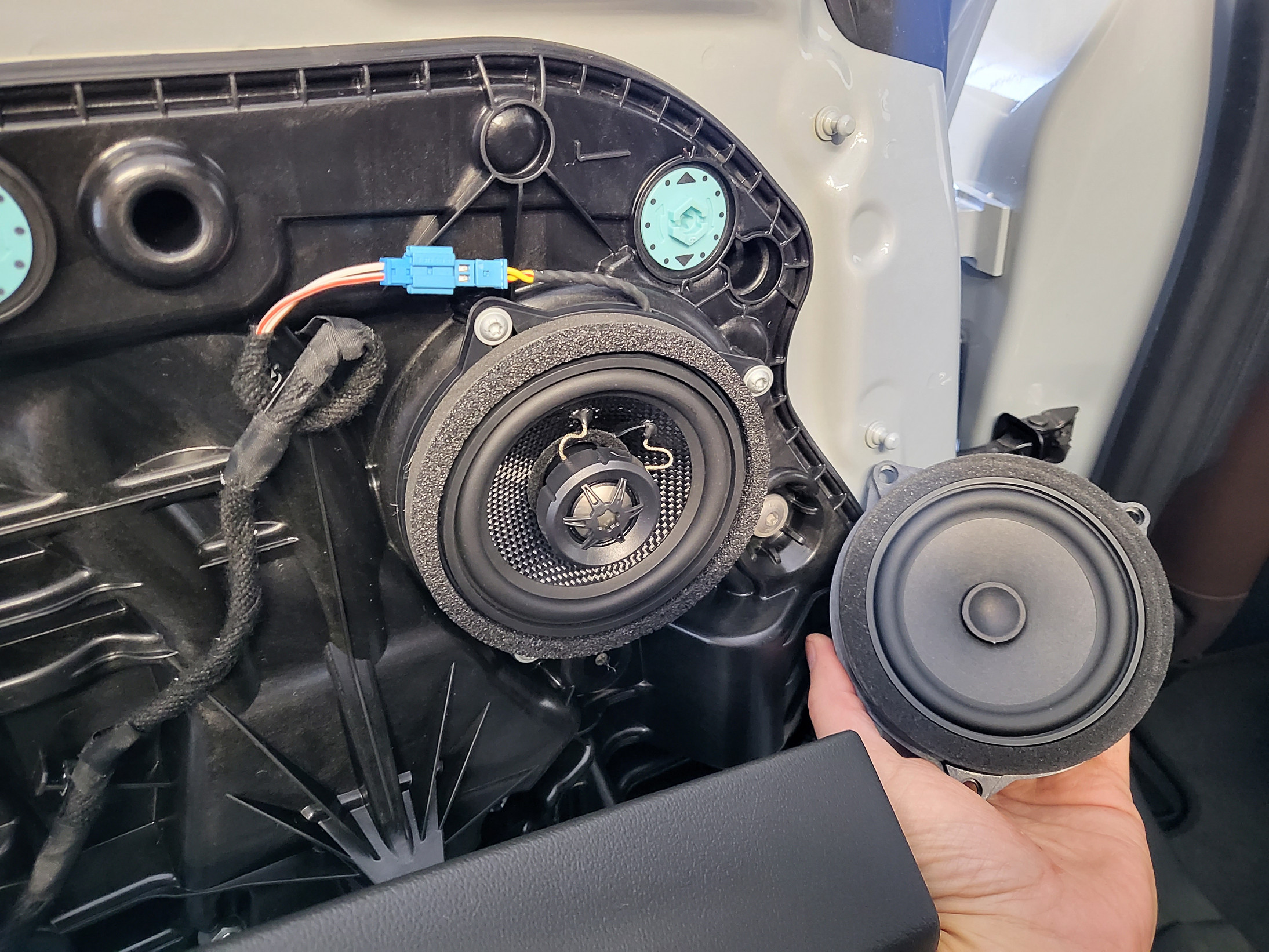 Stealing door woofers signal from RAM amp with Technic PnP add-a-sub harness.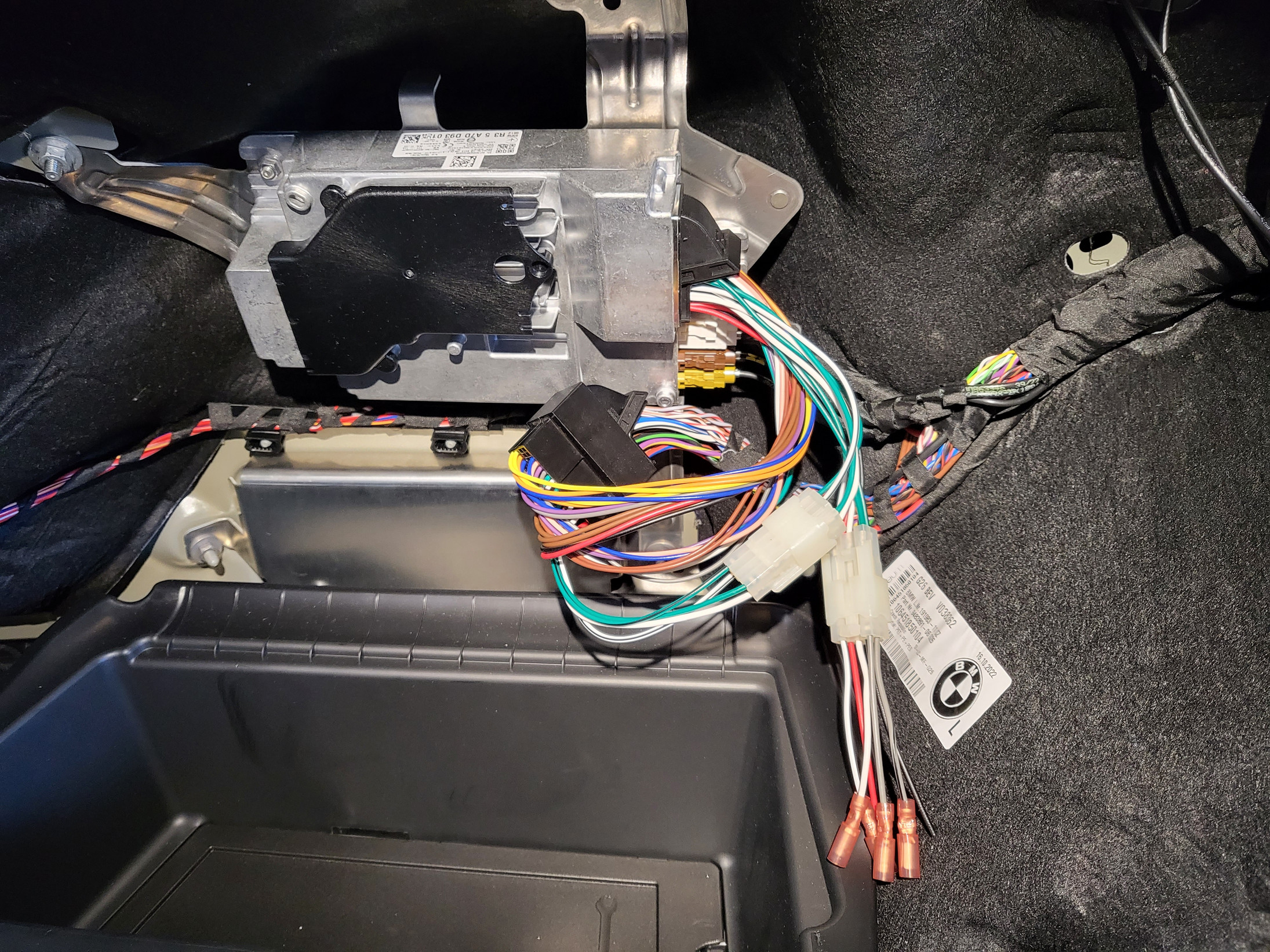 12V from right side fuse box and ground.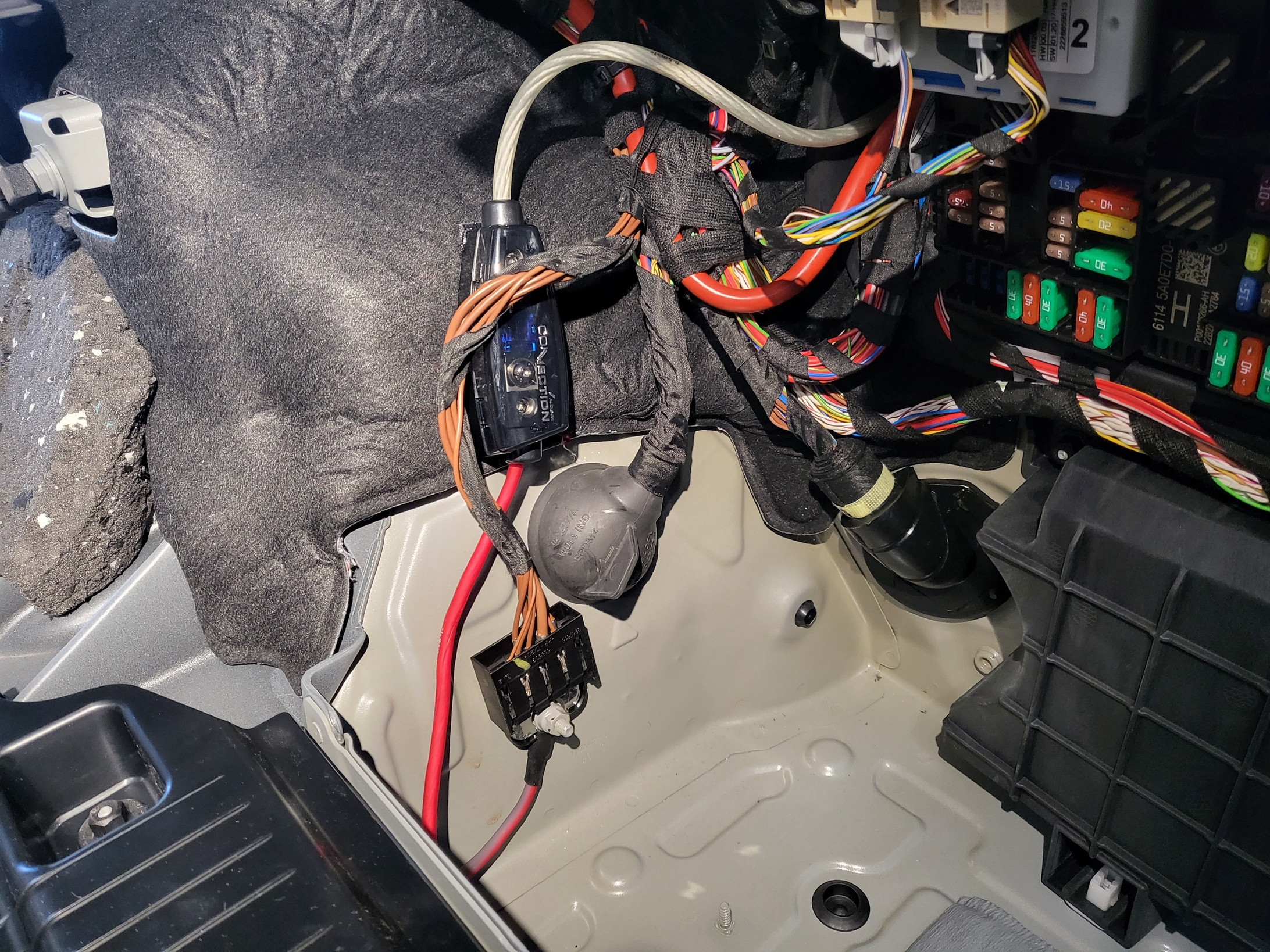 Audison APBX 10 AS2 with remote controller in place.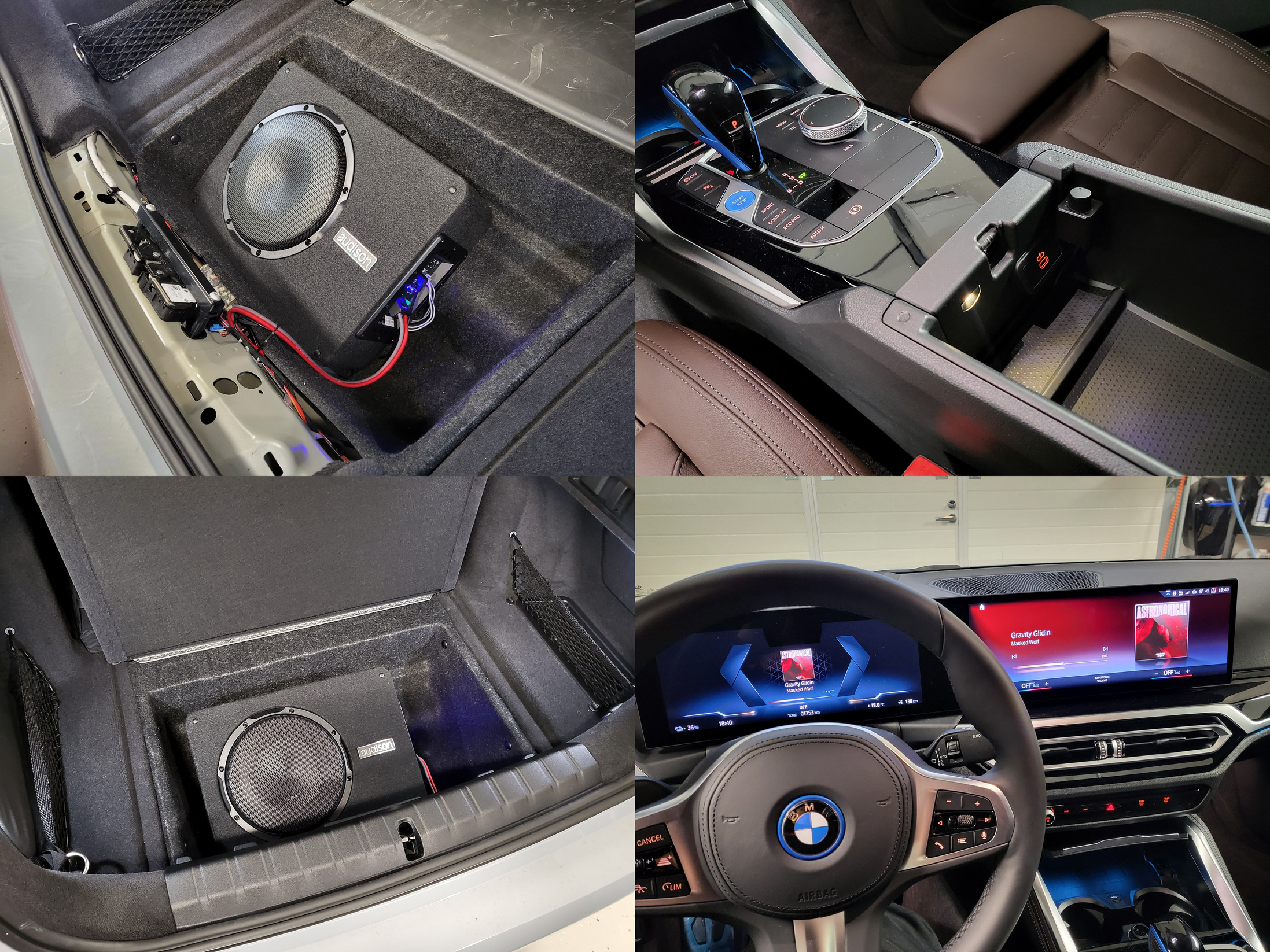 The sound and coding
First impression when listening the setup was quite disappointing. Tweeters sounded way too harsh and subwoofer was playing vocals as lo-pass filter was not active. We tested this way first because in HiFi 676 door woofers are already filtered and this is the signal that sub gets and that have been working really well without using subs internal filters. But this is not the case in Base Audio. Door woofers get full audio band and that is not a good thing as each speaker should have their own bandwidth to play.
So next idea was trying to test if coding head unit (HU_MGU) to HiFi helps. This is normal procedure with older BMW's where head unit is like normal radio and gives analog signal to speakers or amp and has some filtering and equalization ready made depending of the sound system. But in iDrive 7, 8, 8.5 etc.. signal comes from MGU (Multimedia Graphics Unit) via Ethernet and assumption was that RAM amp is hard coded to different audio options, but looks like not. RAM has some some options that can be coded but looks like audio and filtering is coming from MGU Head Unit so we coded that to HiFi 676. And voila sound became balanced no more boosted highs and door woofers & sub got only low frequencies, so subs filter could be turned off and just checking the phase that was 180 degrees in this case gave perfect hitting bass and goes LOOOOW...
If compared to stock Harman Kardon this upgrade goes further regarding overall sound experience. HK has better door woofers and more power to those so better kickbass, but HK lacks low bass and tweeters sound harsh. This upgrade has really good mid/high and lows, but midbass kick is not perfectly coming from front as stock woofers are poor and sub has to handle those mostly. But still superior sound compared to older gen BMW's with underseat woofers, at least for the money. And overall with this little effort just swapping better 2-ways to front doors and adding a sub i4 sounds amazing and is one of the best cars in market to do that without extensive modifications.
NOTiCE! When coding HU to hifi it may revert back to base audio if OTA update comes. Best option is to get OBD dongle and purchase Bimmercode licence. It's one pay lifetime so good investment ;)
Coding to HiFi 676 with Bimmercode. Connect and select Head Unit. Swipe expert mode and search or select Audio System.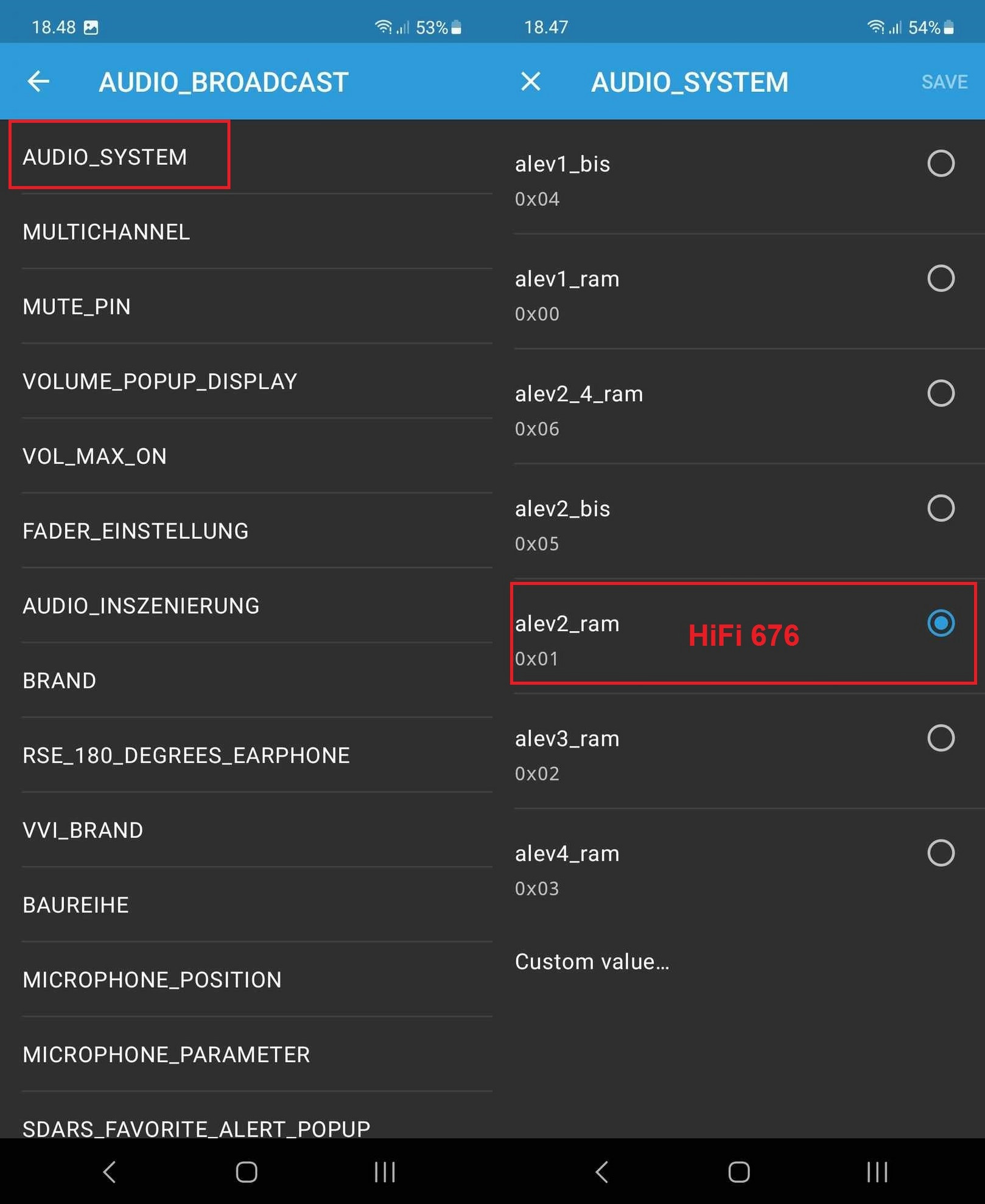 Speaker and sub upgrade for HiFi 676
This upgrade case is basically same improvement as previous for base audio, but to HiFi 676 with Audison 8" active subwoofer and DLS component speakers to front doors and center. Clarity and bass improves a lot and bass output is even better that in Harman Kardon option. Volume level and dynamics are really good for even little friskier everyday listening, but some limits with high volumes. So case 3 is if you are looking the best...
Car and parts & accessories for the install.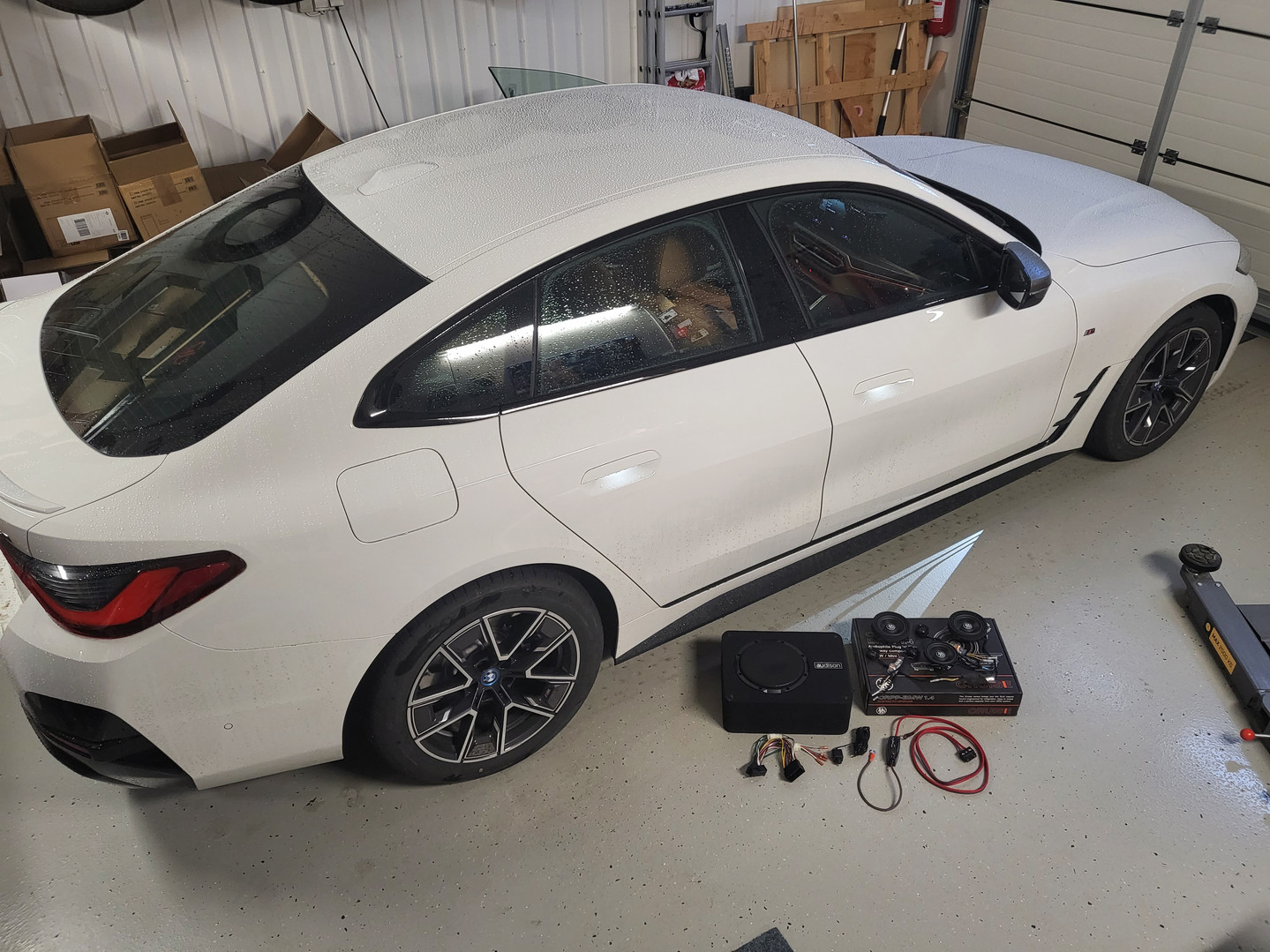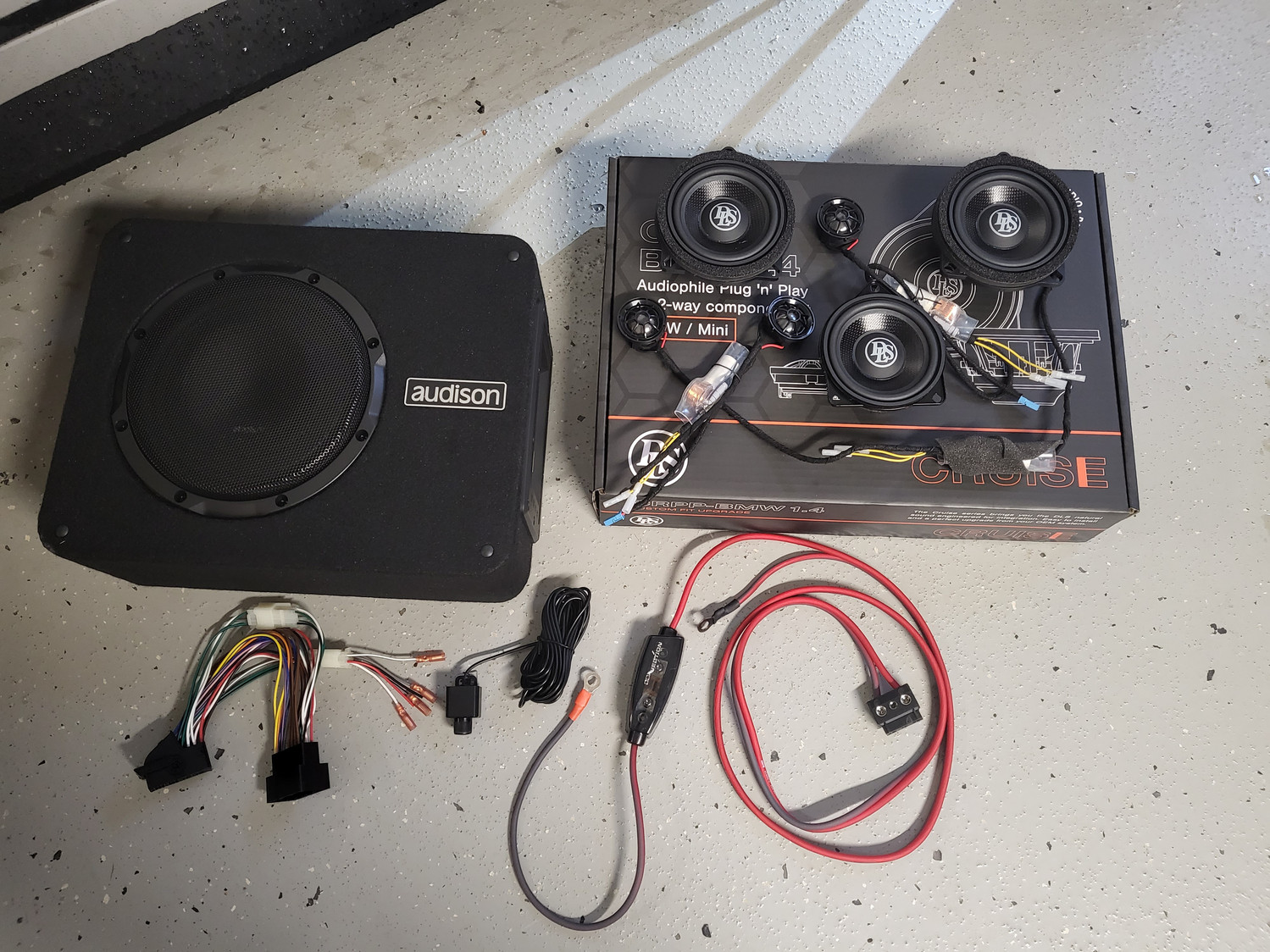 Center speaker and door speakers. Bottom right pic shows a good location to secure crossover under the stock wiring.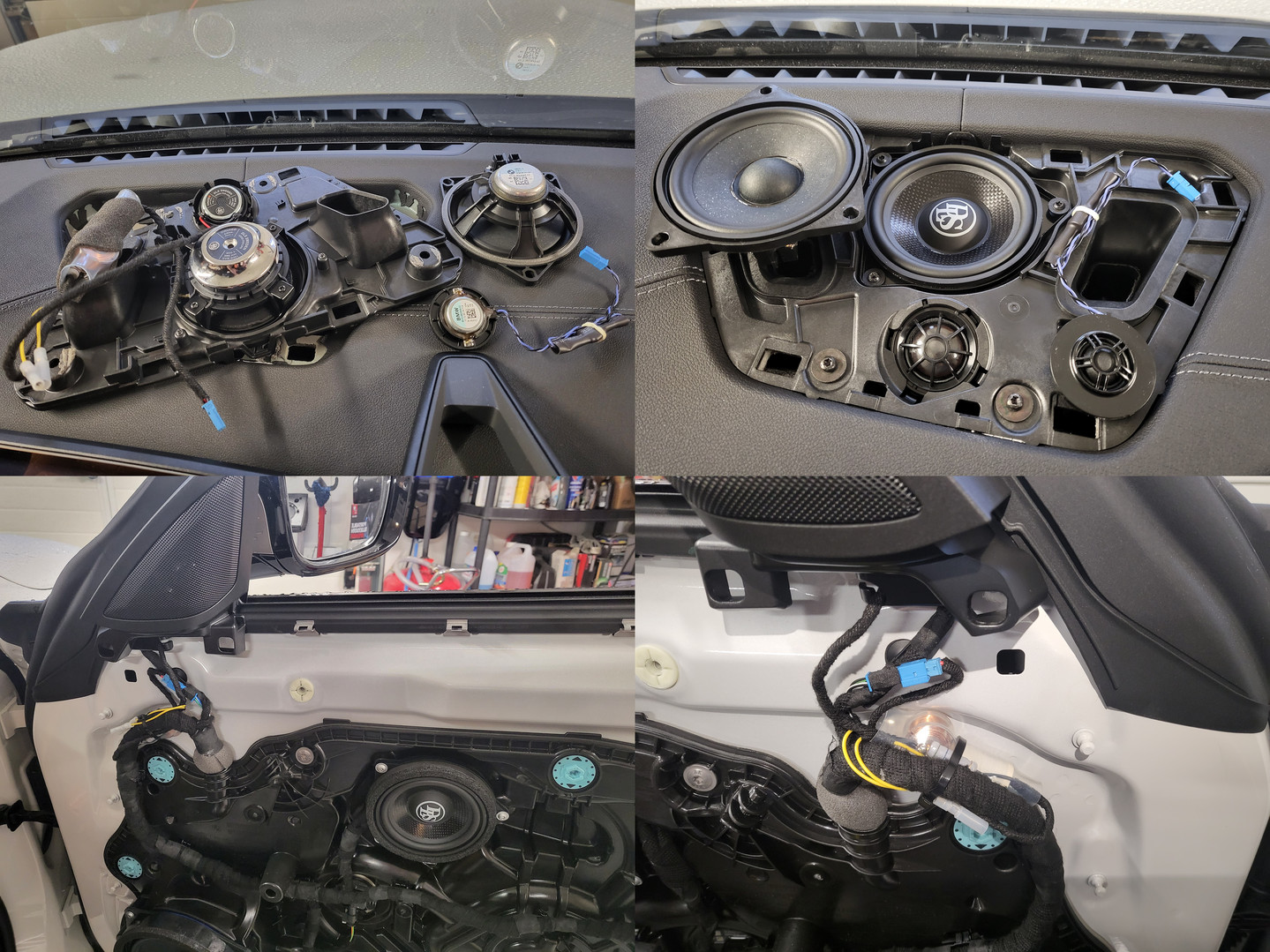 Add-a-sub harness installed between RAM amp and it's connector that is located left side of trunk. It can be used to add an amp to stock door woofers, split signal to subwoofer or both at the same time. Also inculdes 12V power and ground wires if for LOC if needed for amp or active sub without built in LOC. Audison APBX subs have hi-level input with auto-start so just speaker signals are needed.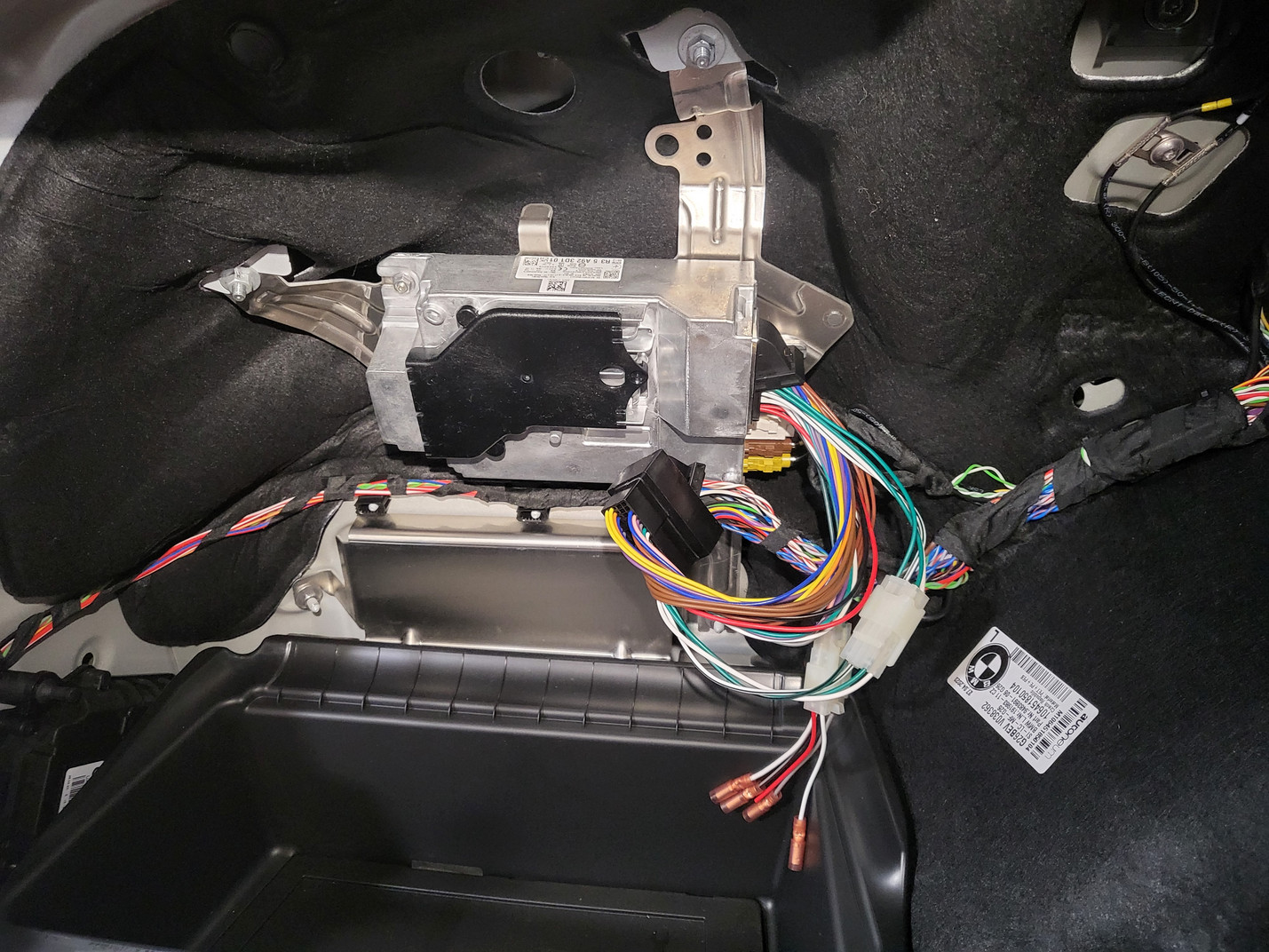 +12V power taken behind the right side fuse box and gound point also at the wheel arch.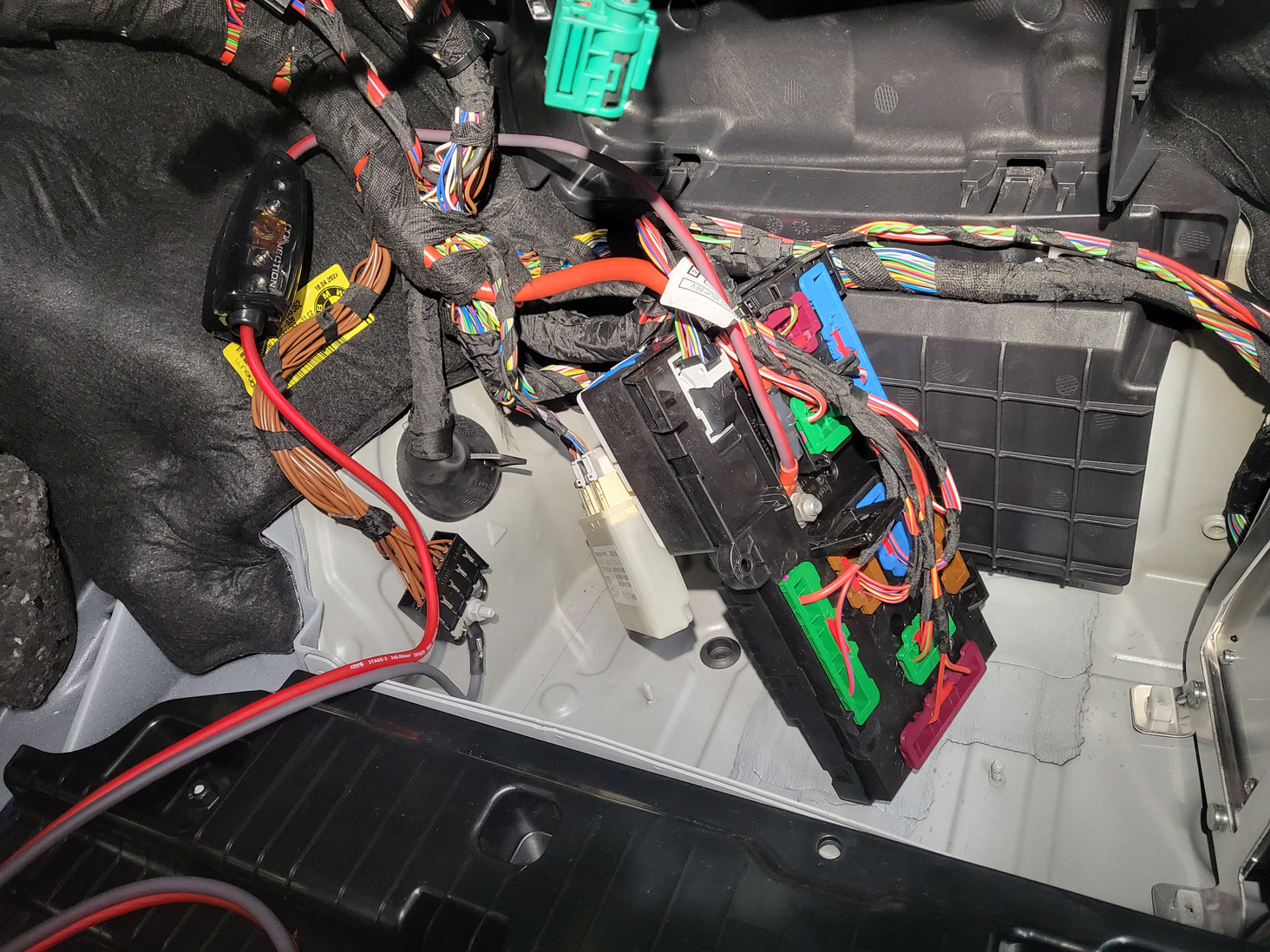 Subwoofer wired and in place.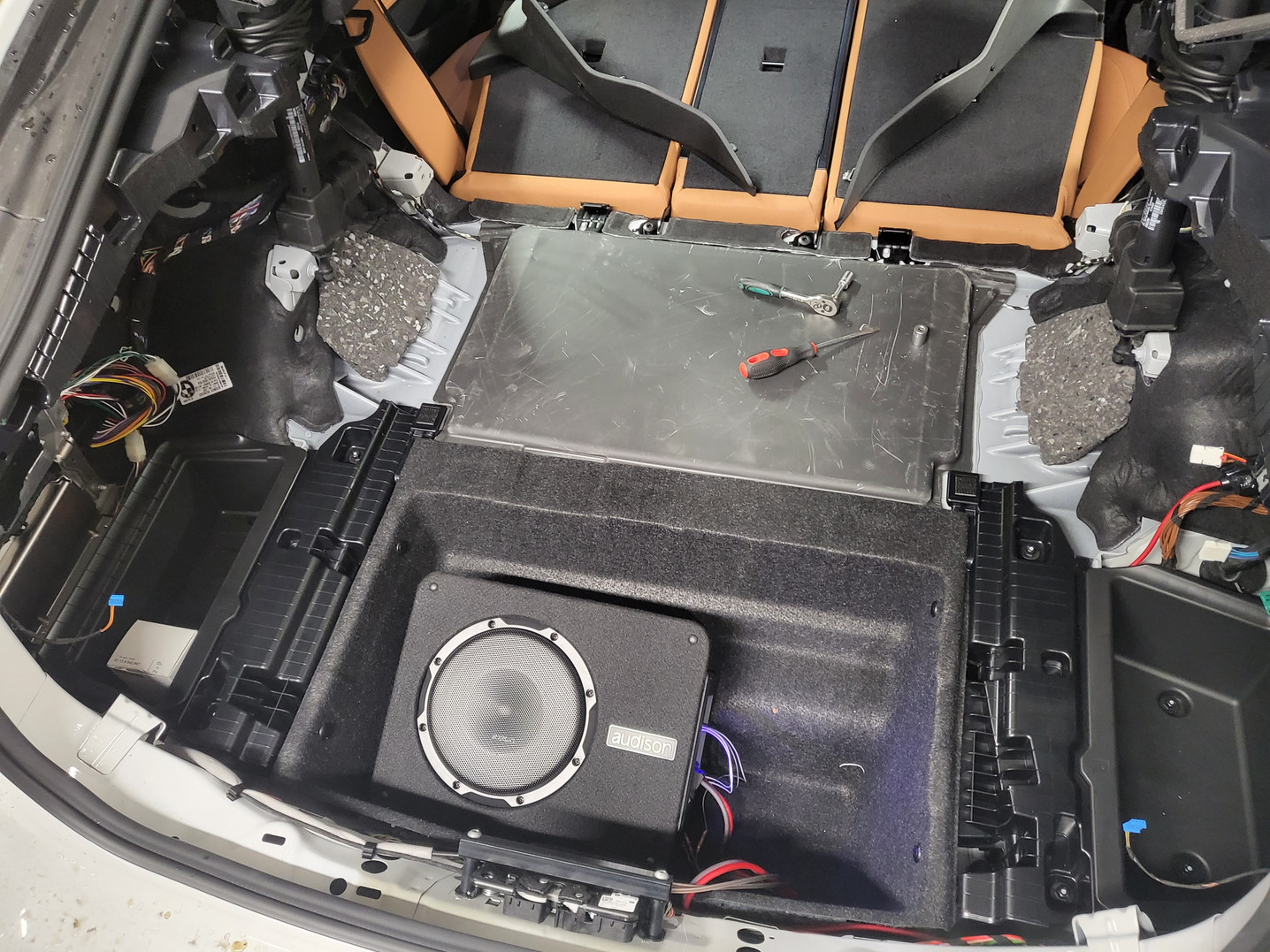 Subs level remote controller wired to center console and attached with 3M two-sided tape.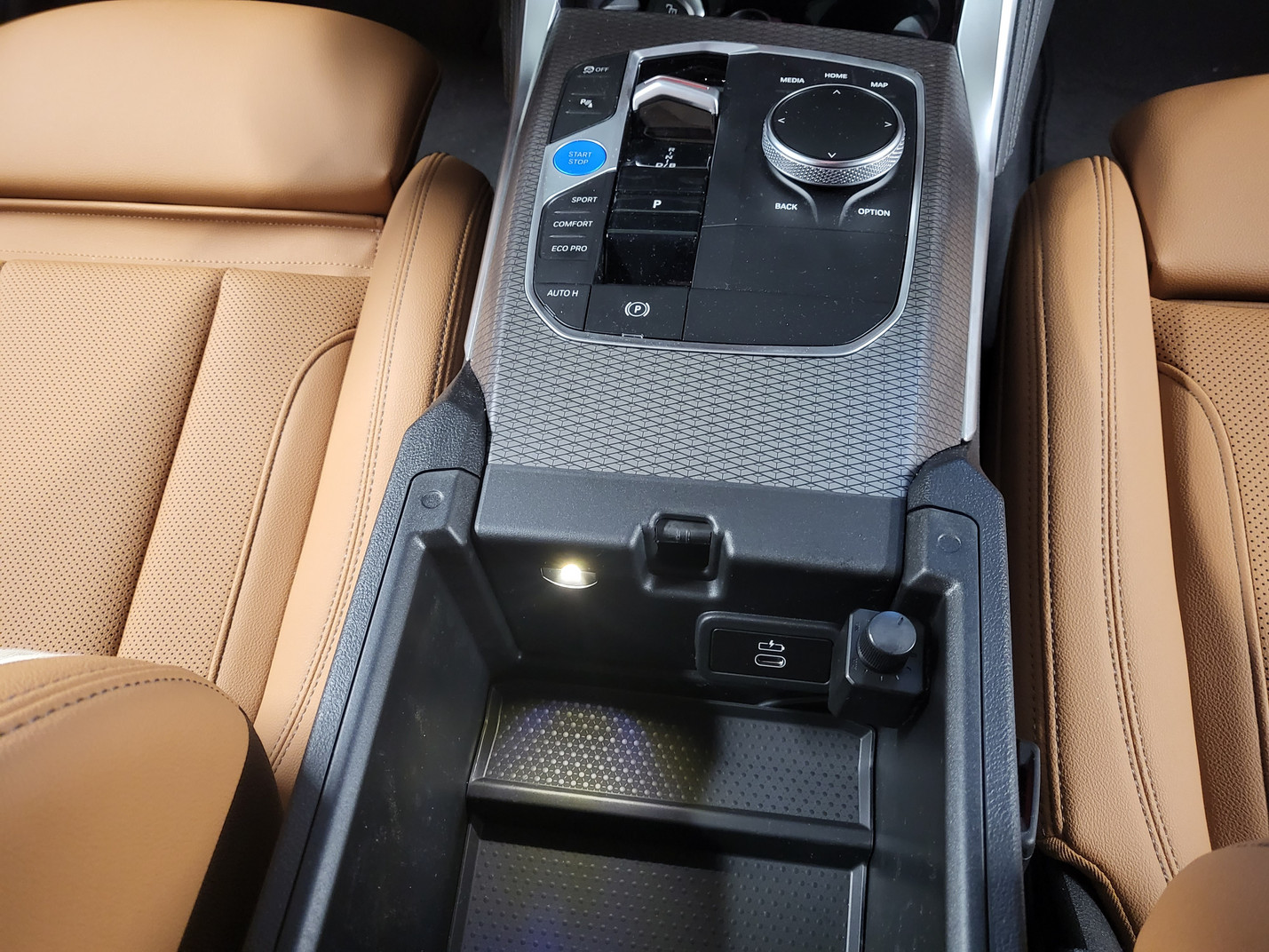 Quite much room left to charging cables etc. with 8" sub. Even more than with Harman Kardon stock sub.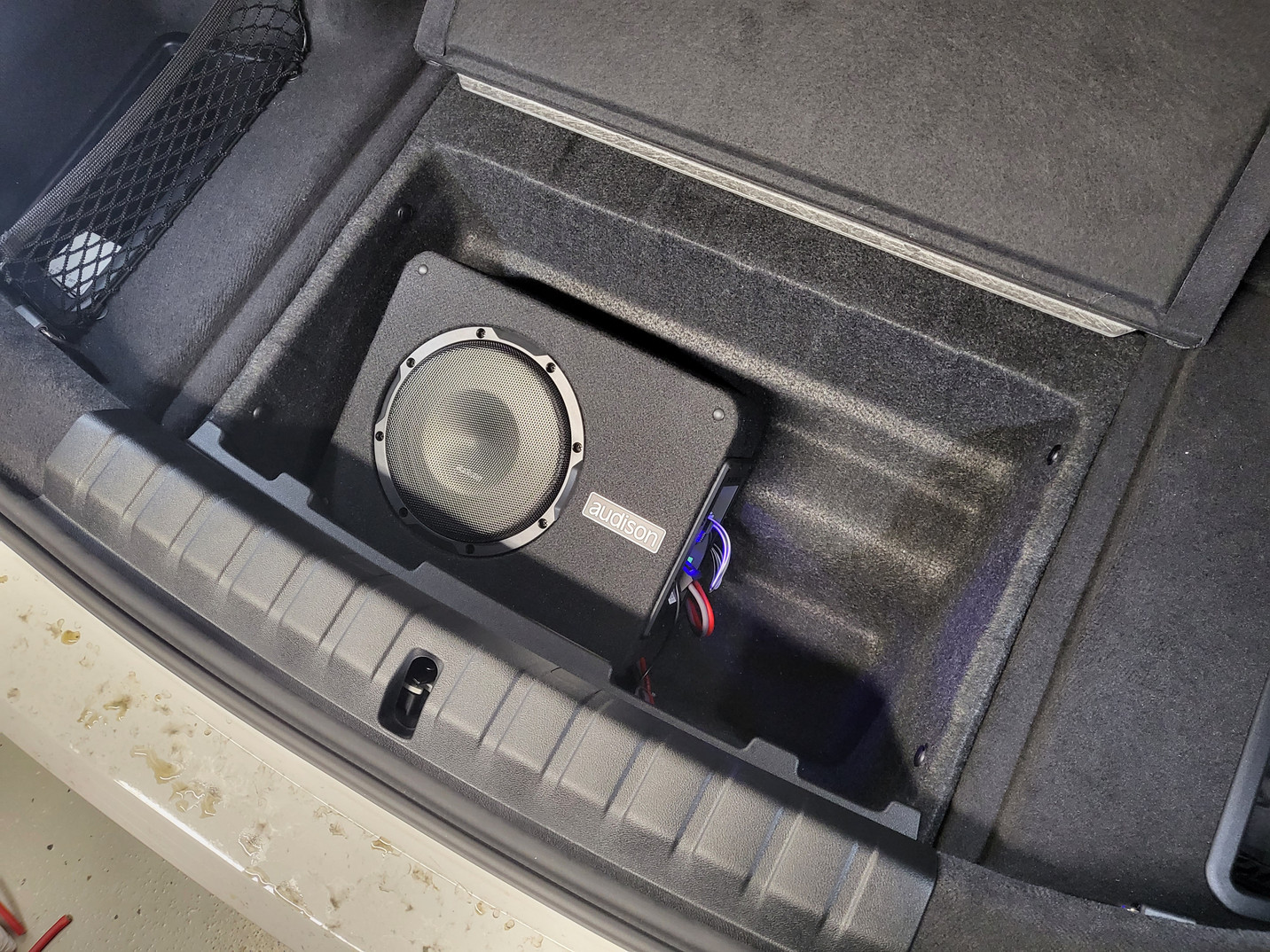 Amp upgrade with speakers and sub - The Best
In this upgrade we also included 1420W Match UP 8DSP amplifier and results goes way beyond what upgraded HK system sounds with better sub and speakers. Currently there's no plug&play harness for HK amp upgrade so that's why base audio and hifi 676 can be made better. But something new is coming to HK option soon...
BMW changed the audio system with iDrive 7 and i4's have same with iD8 and 8.5, so amp is needed to add parallel to stock amp and speaker level inputs are currently the only option. So that leaves out the option to adjust hi- and lo-pass filters as those come from stock RAM amp. Still with at least four times more power and DSP adjustability i4 can be made sound great and that goes both base audio and hifi 676.
In this upgrade on top of changing door and centers speakers we also upgraded door woofers to Audison AP 6.5 2ohm, as Match UP 8DSP sub channels can provide nice 2 x 160Wrms for those.
Amp upgrade set in webshop -> LINK
Note: Pics are from two different cars (blue & white) so that all steps to install can be seen.
Car and upgrade parts.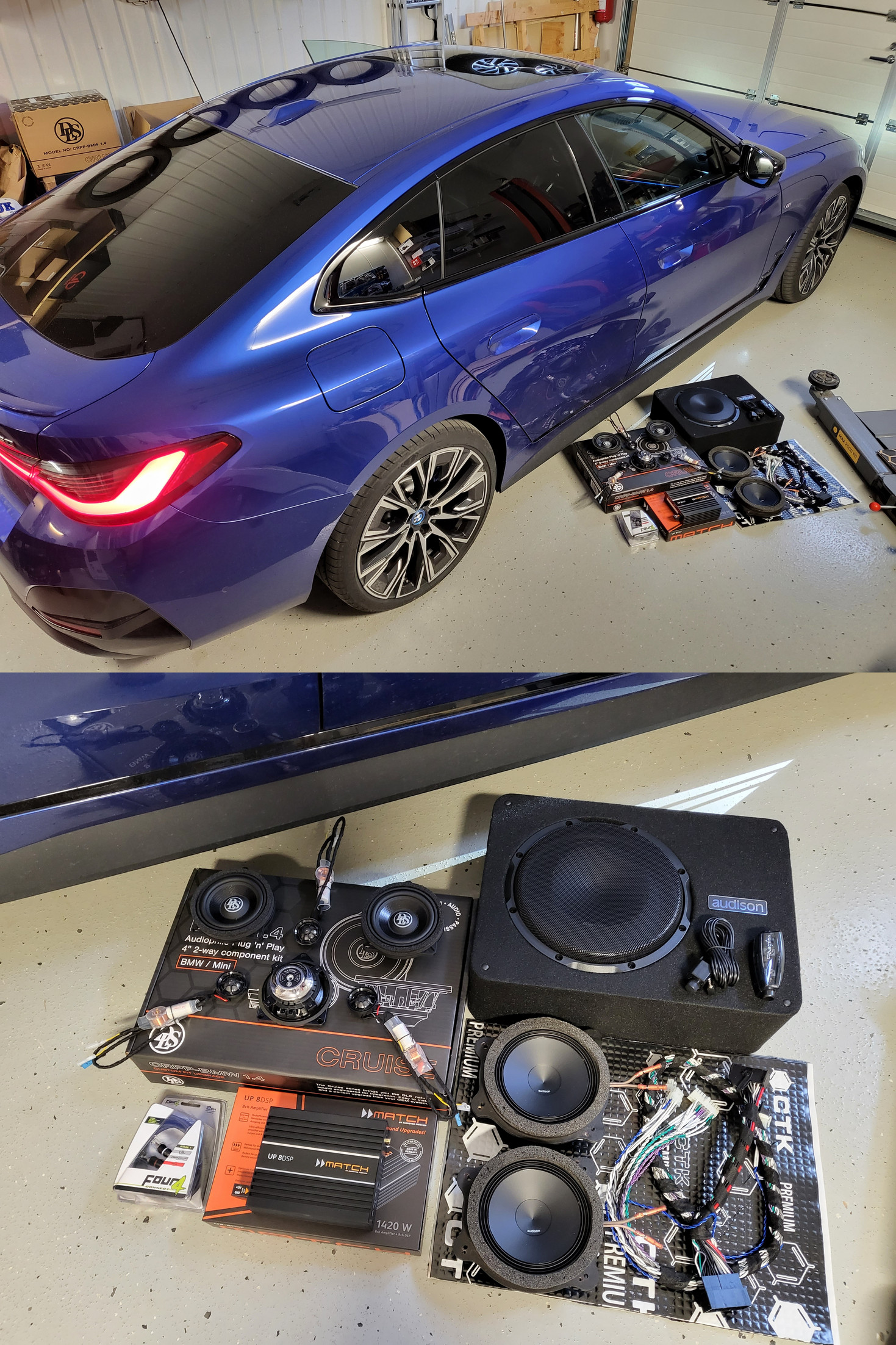 Stock 2ohm HiFi woofers have just 26W power handling.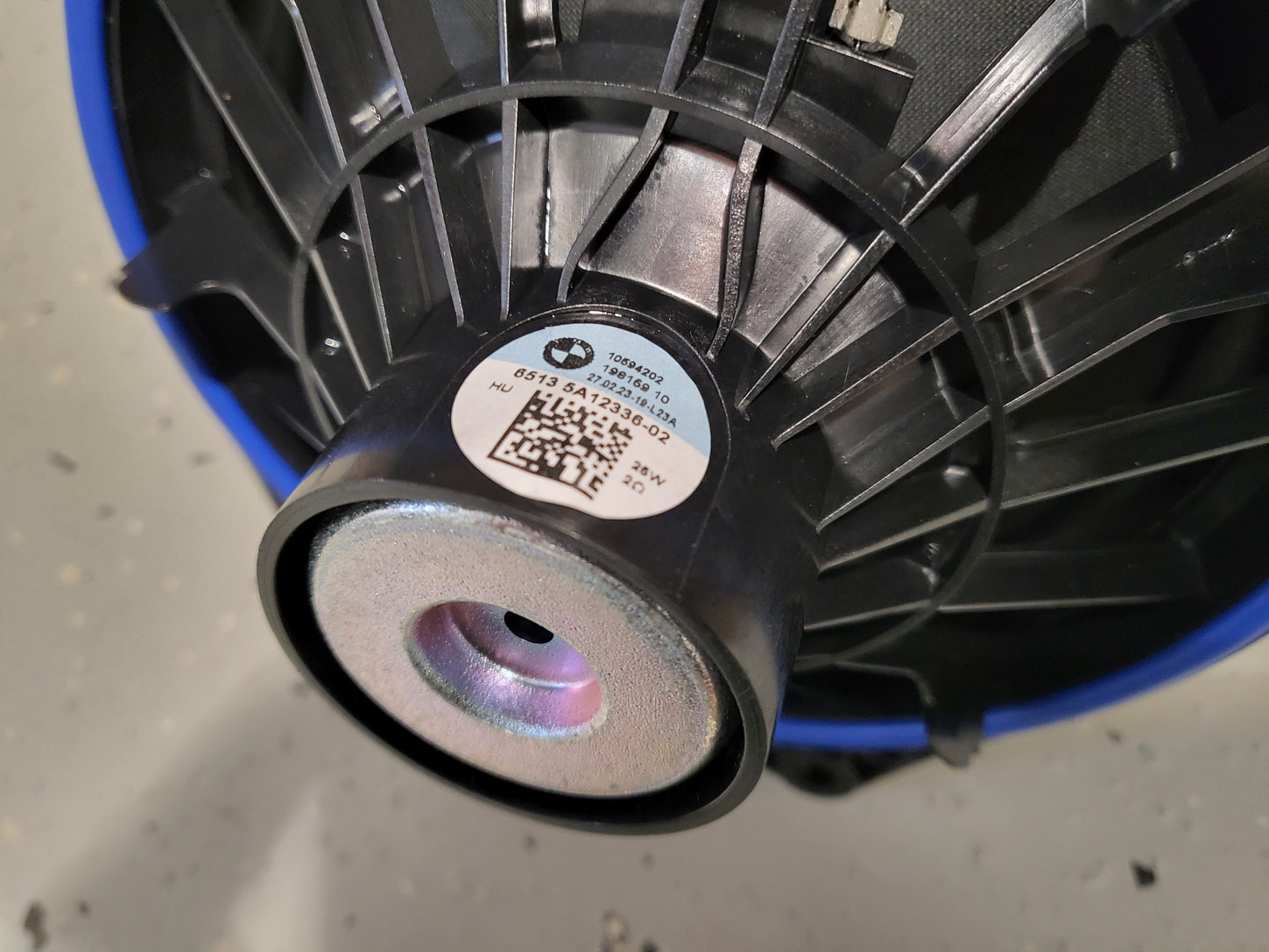 Comparison of Audison AP 6.5 2ohm and stock HiFi 676 woofers. Adapters also in there but not yet attached.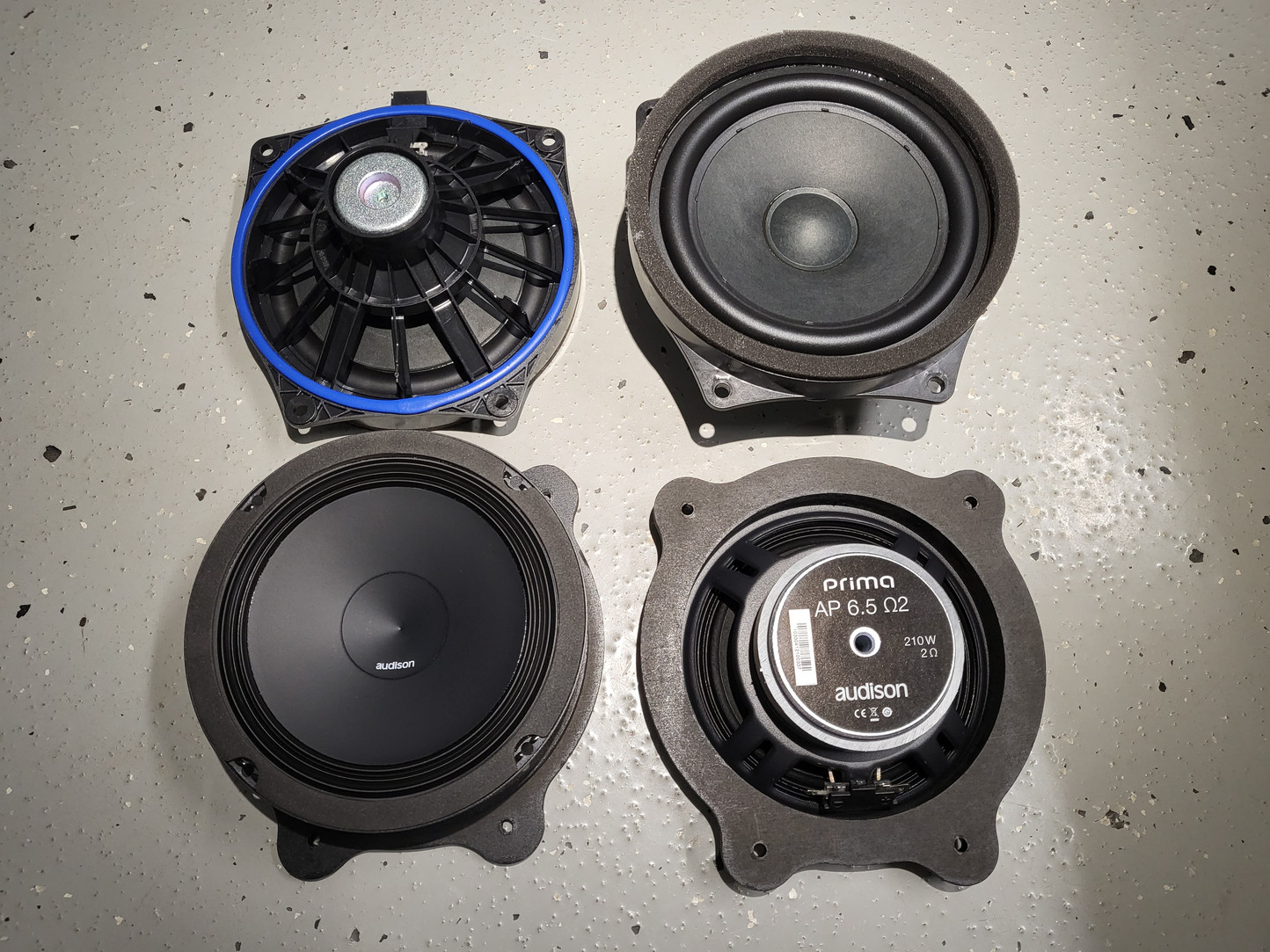 DLS center and door component speakers installed.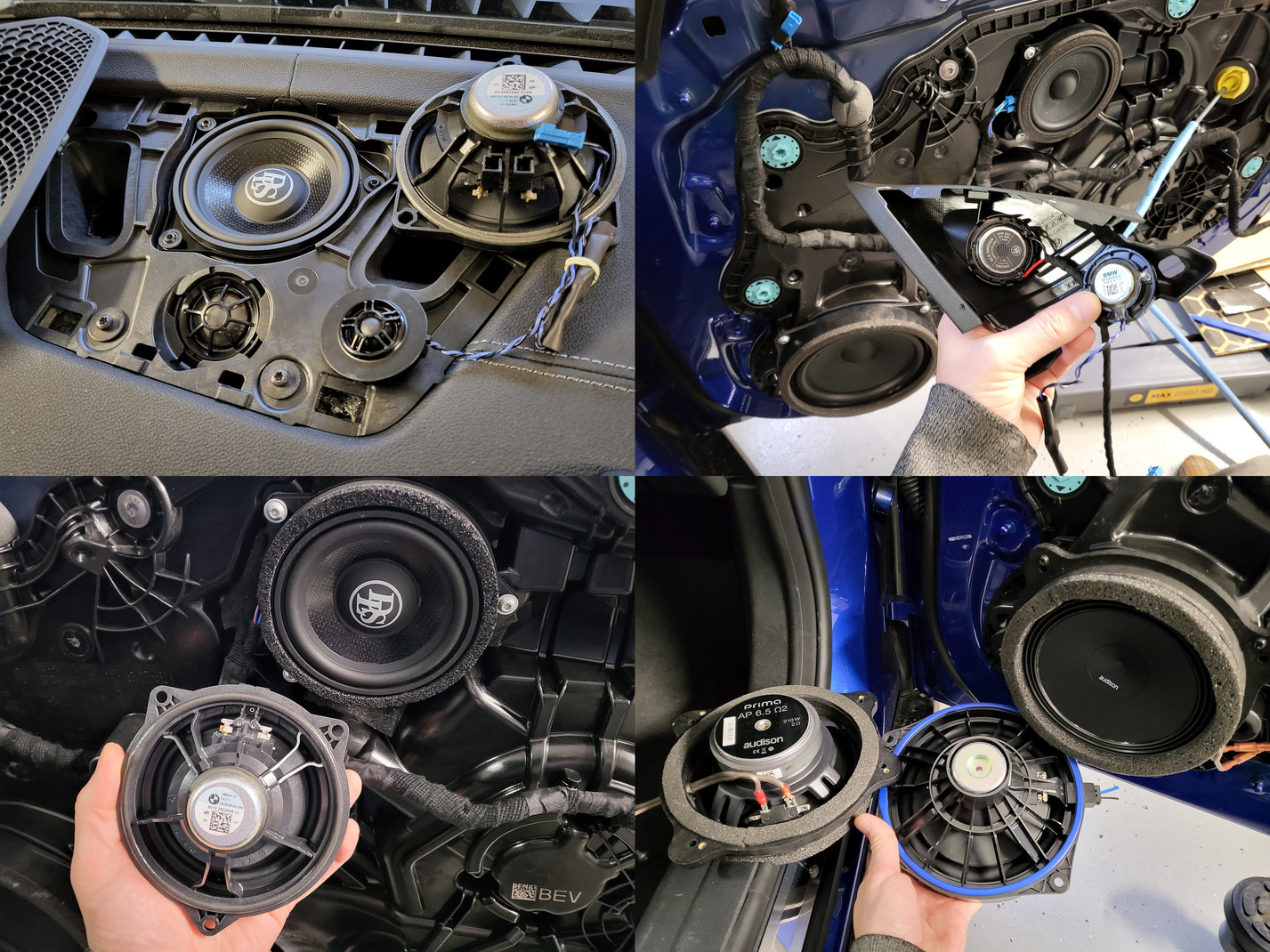 Door speakers installed with some soundproofing to doors middle plastic part.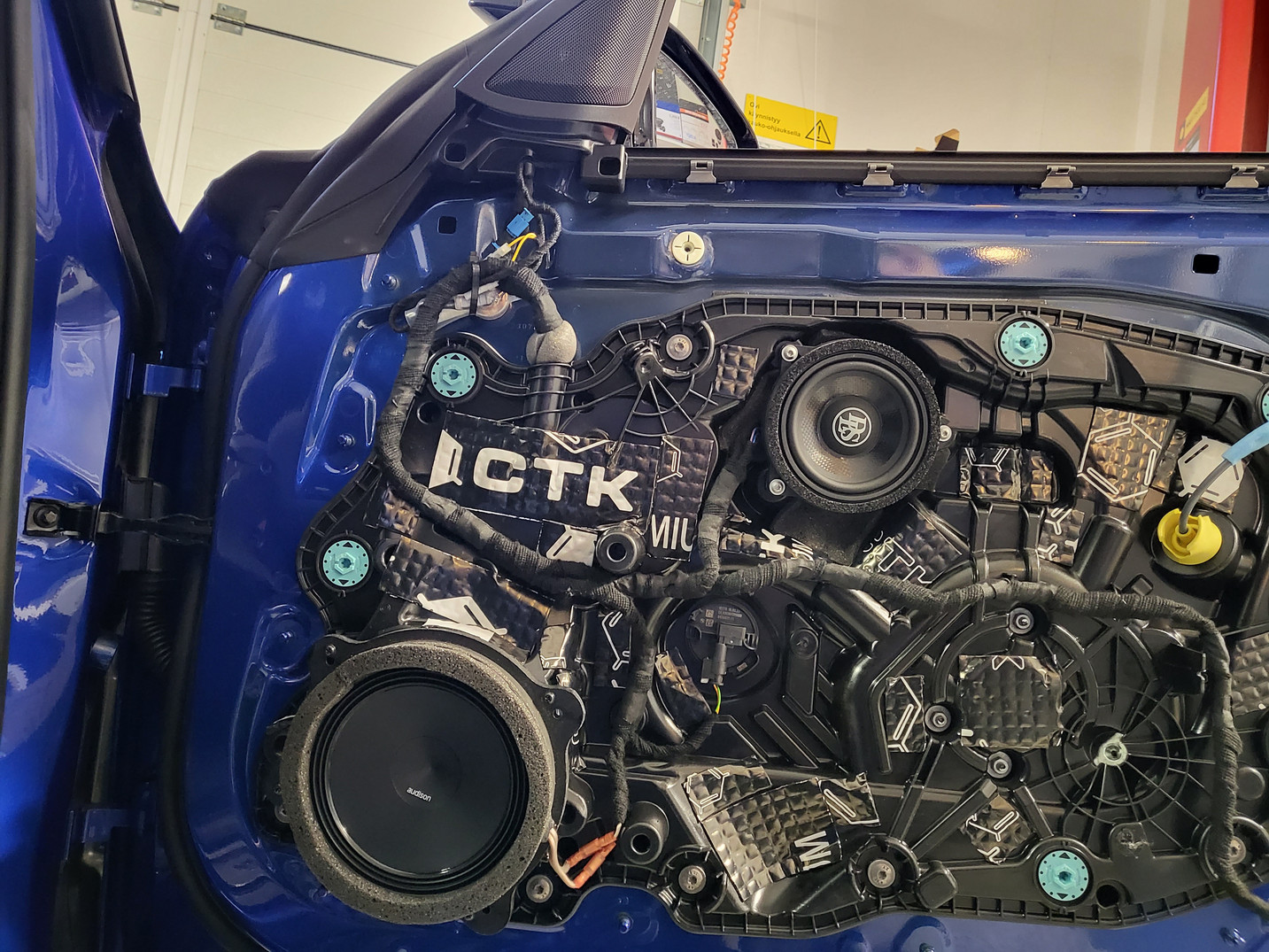 12V from right side fuse box to sub and amp. Power distributor can also be used but this is the easy and cost efficient way.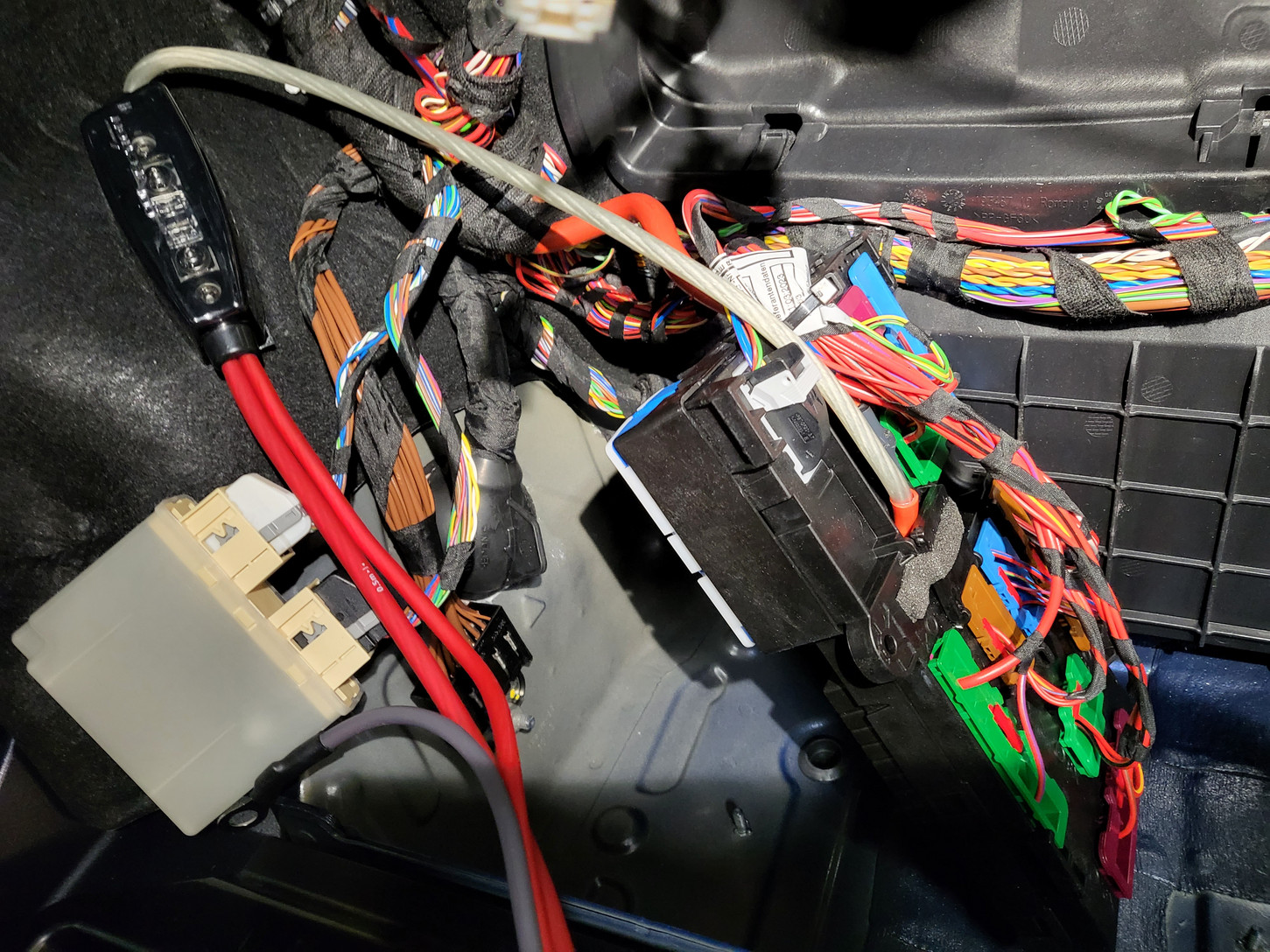 Power cable routed to the the amp.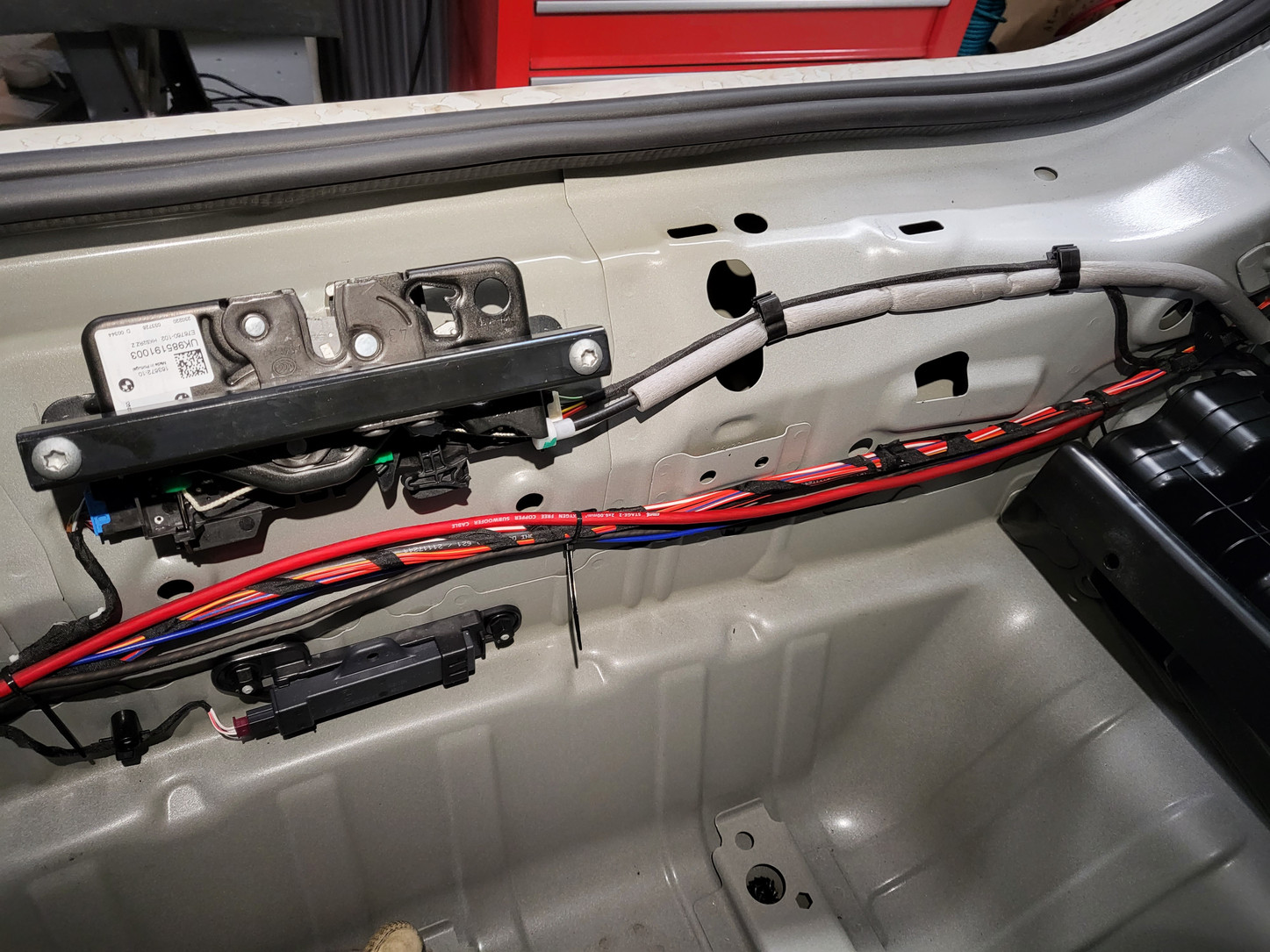 Match UP 8DSP installed where HK booster amp would be. Notice grounding point near.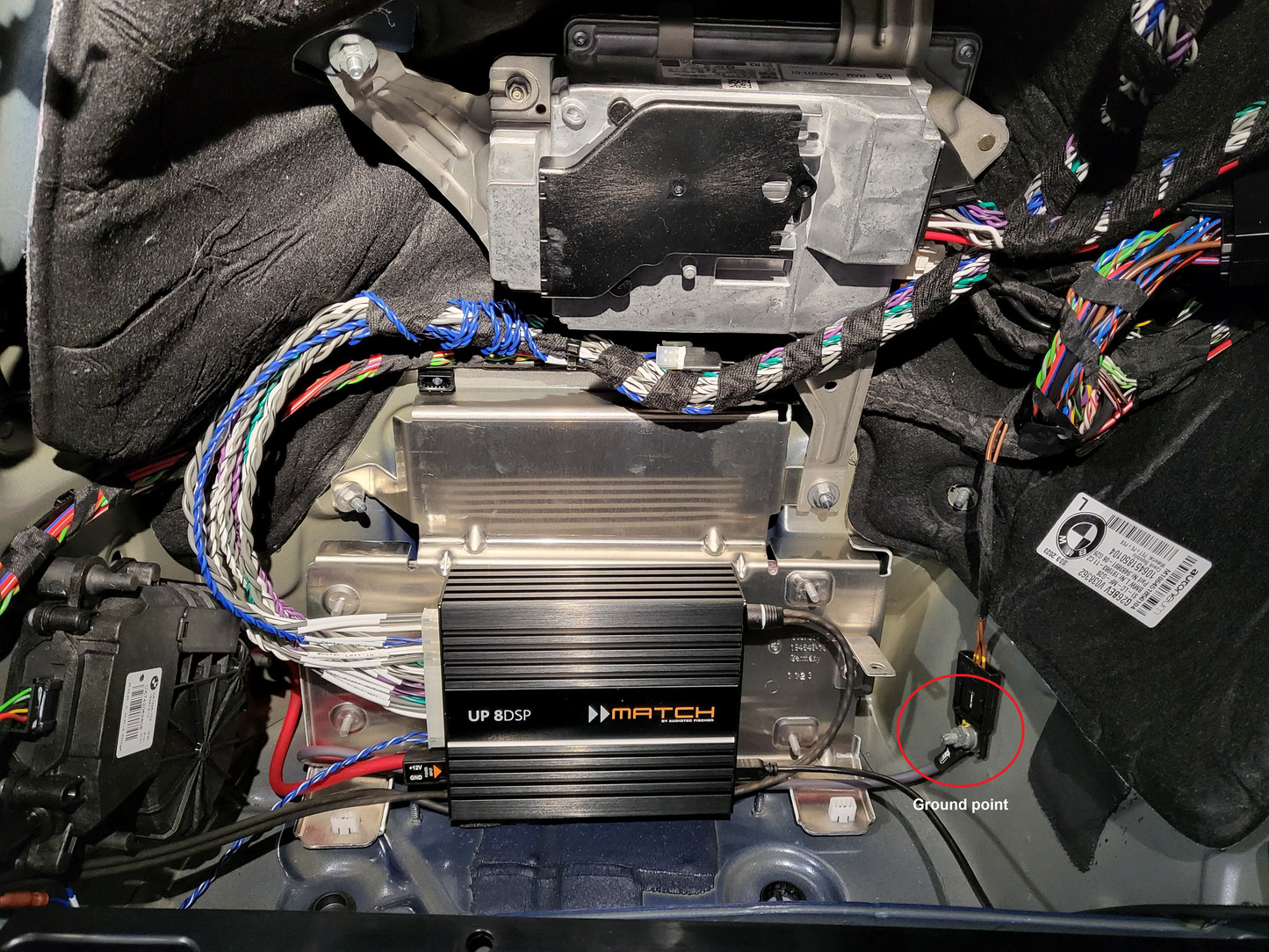 Audison APBX 10 installed using short 1M-2F Y-RCA and short 75cm RCA + remote cable from UP8.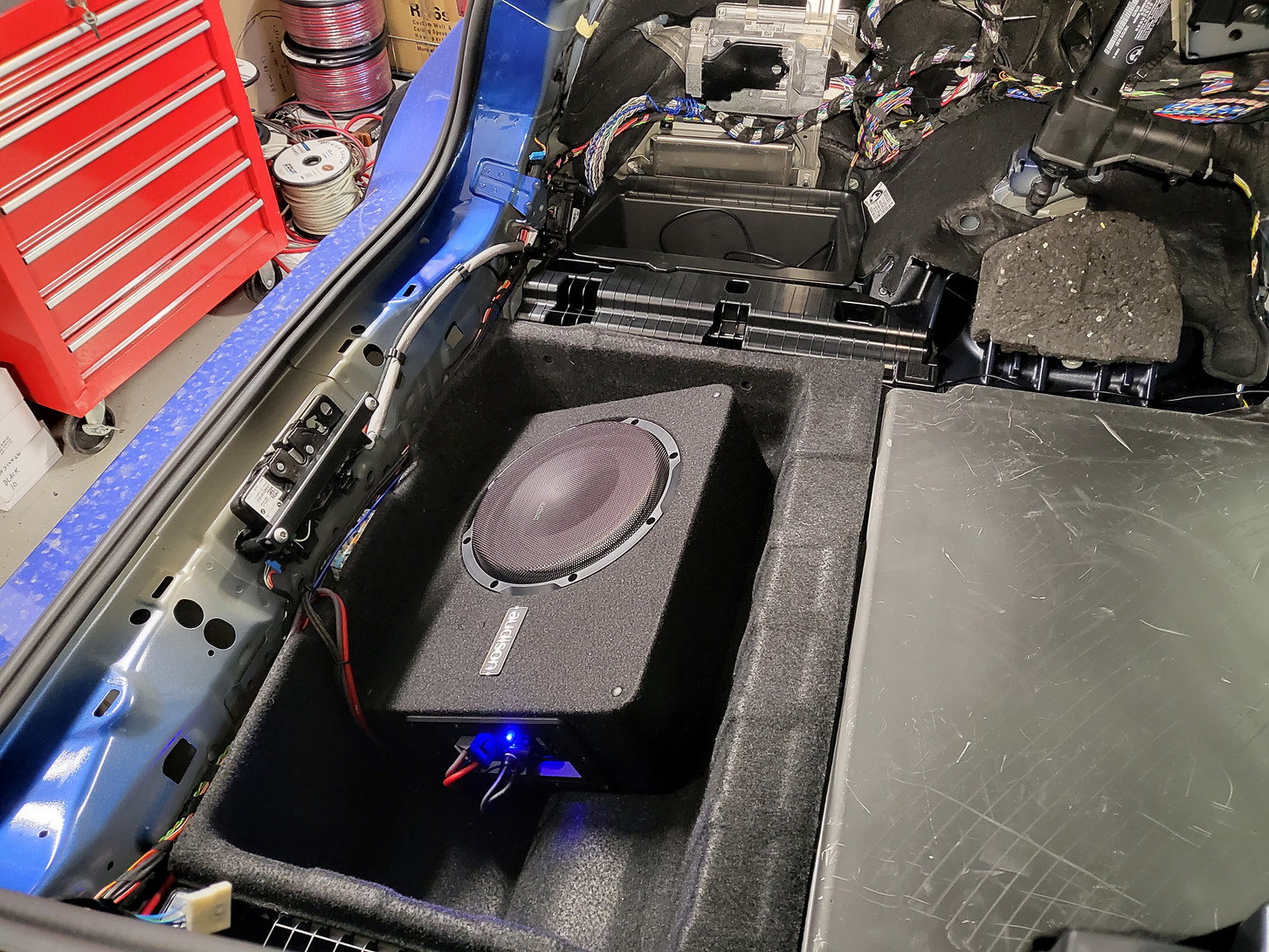 Sub ready and side panels installed.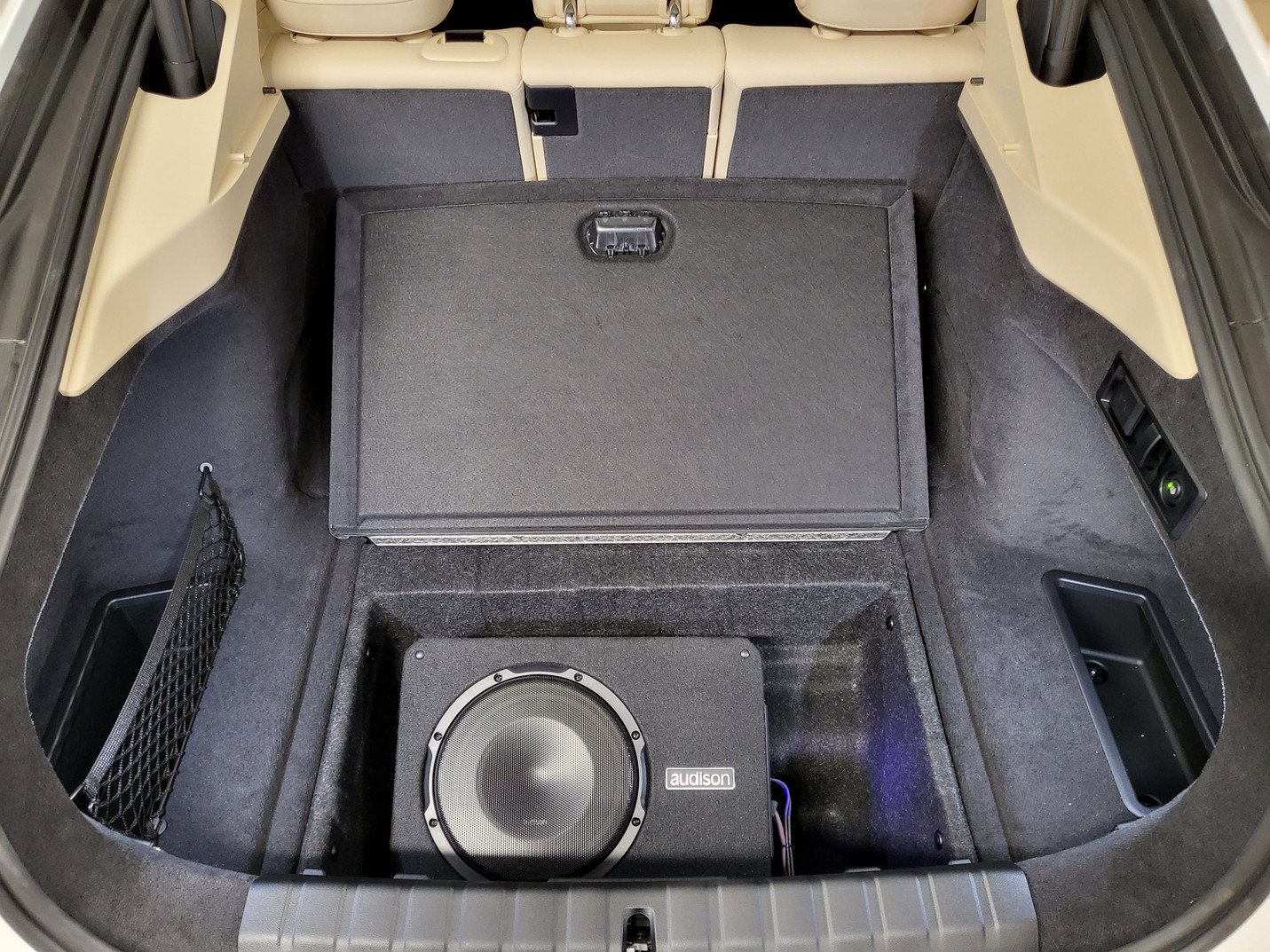 Bass level knob for sub and Match URC.3 remote for door woofers level and sound setup swap. Time alignment and EQ tuning with PC-Tool 5 software usind Match MTK-1 microphone kit.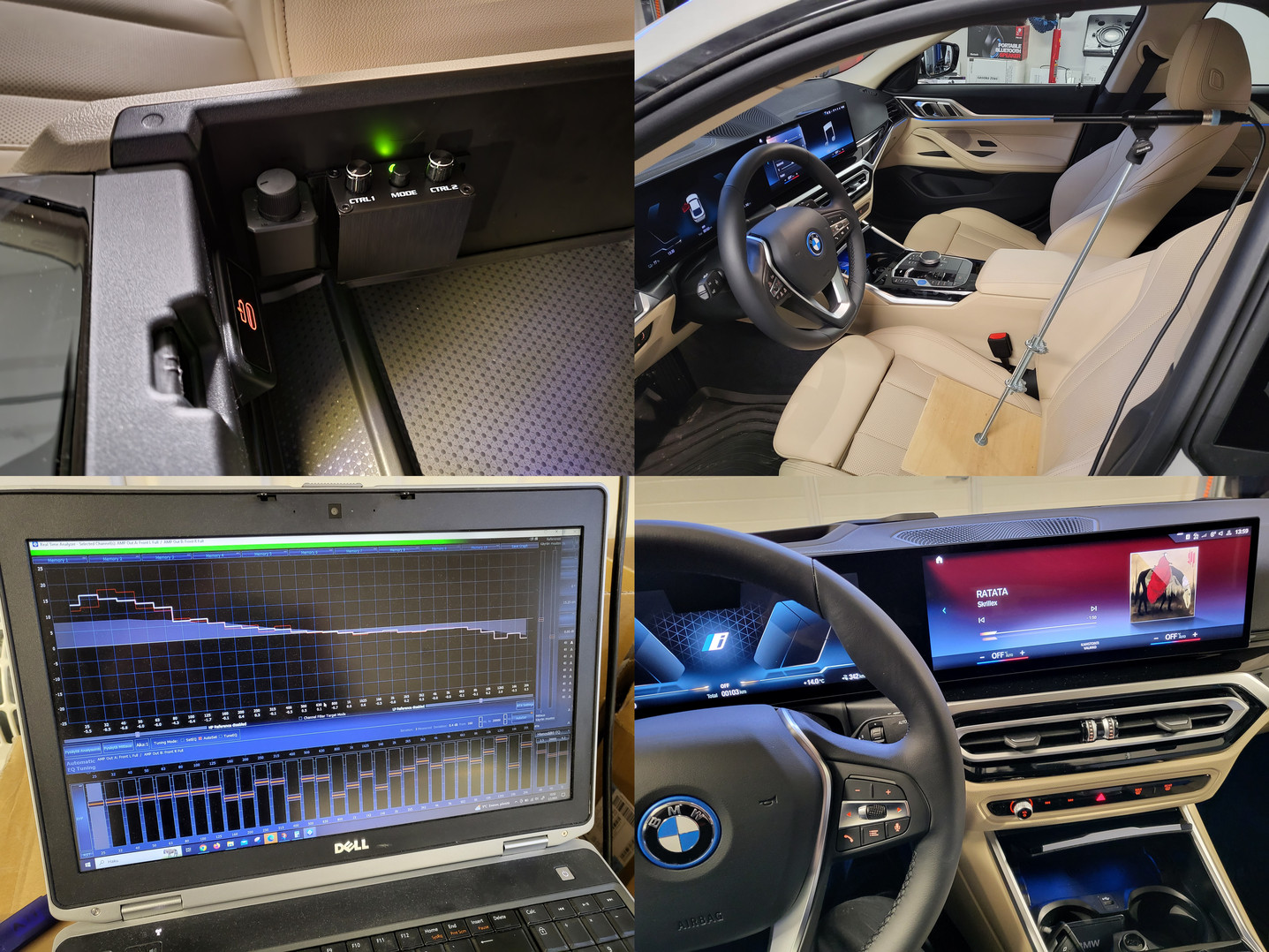 The sound and wrap up
Overall sound is much much better in i4 than in fully upgraded ICE cars using OEM speaker locations. That's because i4 has 6.5" speakers in front doors so basically 3-way system and all elements in same line. ICE cars have underseat woofers that can give almost subwoofer like sound, but doesn't compare to kick from door woofers plus added sub in trunk. So i4 is basically ideal car for making good audio system without hard modifications and also ride is quiet so more enjoyable without much external (engine) noises. First upgrade case is surprisingly good for everyday listening as there is an amp also in base audio, but it just lacks highs and lows. Second upgrade case is near perfection what car audio can be with full DSP control and adjustability. Super dynamic sound like being in live concert. Hard to describe more you gotta do it and hear it ;)
But overall it doesn't matter if you have base audio or hifi 676 system both can be upgraded almost the the same way. Lack of center speaker in base audio is not so critical as stereo means 2 channels. But center gives some benefit to co-driver and back seats as it sits high on dashboard so sound spreads better to whole car. But for drivers seat just left+right adjusted correctly makes even wider stereo image. That's why you don't see often center speakers in car audio competitions. And sure center speaker is possible to add also to base audio with Match UP 8DSP as it has "Real Center" algorithm that works really well. Just need do wiring for that to UP8 amps center outputs.
P.S International i4 users if interested of sound package please contact via email to get price quote with shipping - > info@audiokit.fi
- Kimmo / Audiokit