BMW i3 is the first modern full electric car from German car manufacturer Bayerische Motoren Werke. Lots of effort has put into creating this, which started 2007 to research eco friendly options from scratch. Natural and energy efficient materials as eucalyptus, hemp and recycled materials are being used, but also more expensive like carbon fiber. Modular build consists aluminium chassis with battery pack at the bottom and carbon fiber reinforced plastic "Life Module" on it. BMW says that interior is made of 80% recycled materials. Roof is also made of left over pieces of carbon fiber used in a cabin and all together makes i3 body very rigid and resonance free. Big but narrow wheels keeps the ride quiet, but lots of effort has also put into making this car quiet with soundproofing. Performance figures are 170hp/250Nm and the car accelerates 0-100km/h around 7 seconds, but the best thing is the instant power when you hit the pedal. One pedal driving is also fun to get used to and heat pump with online precondition timer makes winter mornings enjoyable to start your commute. But most importantly this is one of the best cars to build good sound system for a few reasons. A: Quiet car to enjoy music at least in the city. B: Rigid carbon fiber cage makes it resonance free at least to some point. C: Good speaker placement and open space. D: Power capacity! i3 will let you play music long time without need to worry about battery getting depleted, as high voltage battery feeds 12V battery constantly when ignition is ON.
So about equipment options? BMW style you can also get the car fully loaded. Leather seats (dyed with olive leaf extract obviously), big 10.25" multimedia screen and lodge / loft / suite interior designs & materials. Some stuff like electric seats are not an option when trying to keep weight down, but mostly you can get many same options as in all other BMW's. One special feature for i3 is Park Assistant option, so the car can park by itself (link). About Hifi options there are just two; base audio and Harman Kardon.
Base Audio
- Powered by 4-channel head unit (under the rear seat)
- 4" door speakers (no tweeters)
- 6,5" bass speaker in kick panels (footwell)
- No rear speakers
Harman Kardon
- Powered by 7-channel class-D amplifier 360W total power (analog input, also under the rear seat)
- 4" door speakers and tweeters in A-pillars
- 4" rear door speakers with tweeters
- 4" center speaker with tweeter
- 6x9" bass speakers in kick panels
In this project we'll focus on Harman Kardon sound system, but some tips will be provided for base audio.
So how does it sound? Really not so bad, but the biggest issue is lack of low bass. Vocals and higher frequencies are crisp and clear, although some people experience metal tweeters somewhat harsh. There is good feeling of space in the sound as the cabin is spacious and speakers have good distances to listening point. Midbass has good puch and at low listening volumes even some low bass. As normal in stock sound setups, lack of clear stereo image is another big issue. Center speaker helps a little, but vocals come from all around rather than focused at the front as it should.
Harman Kardon stock setup.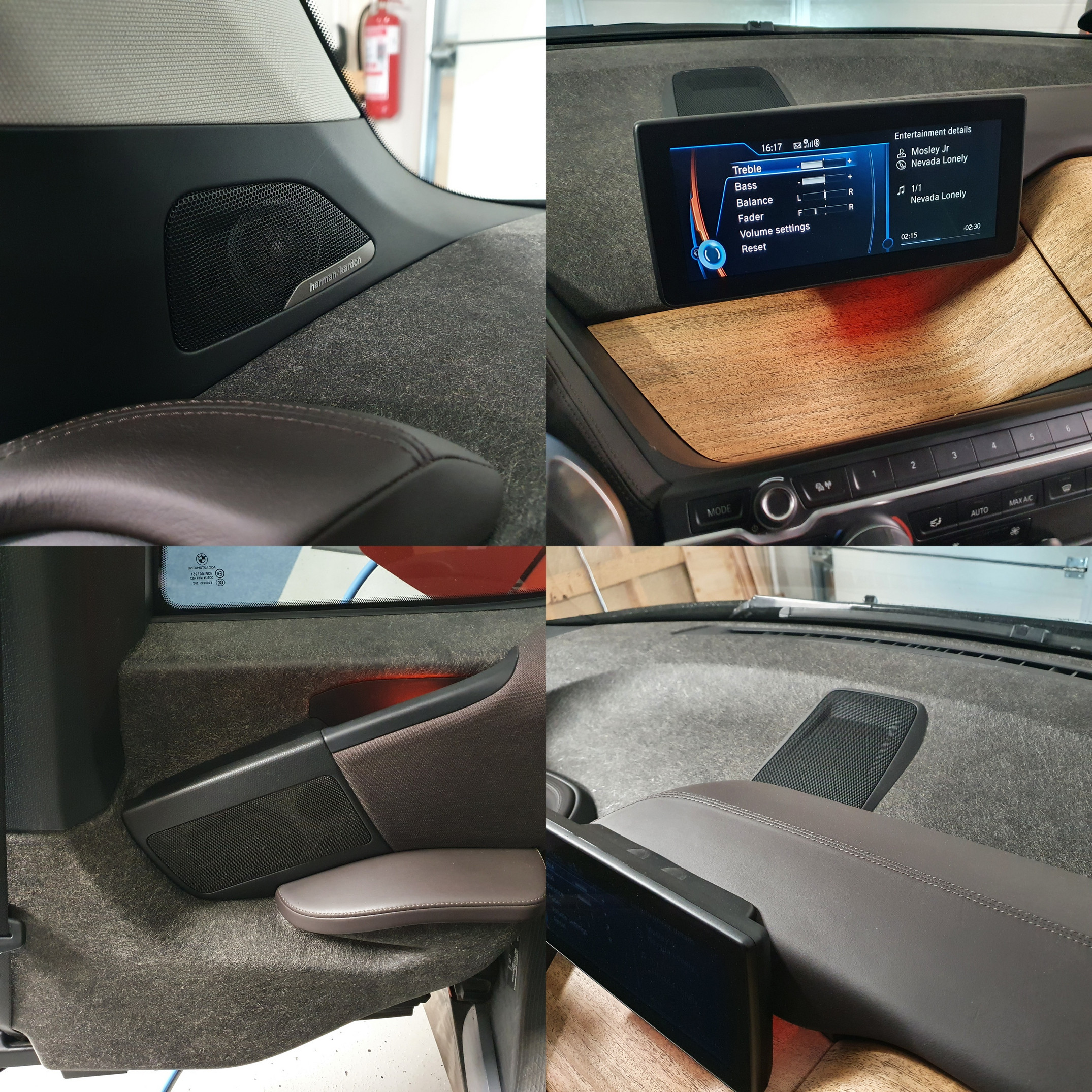 Updating the amplifier: Match UP 7BMW
7-channel stock amplifier is made by Harman Becker and it receives 4-channel analog signals from the head unit. More specific specs are unknown, but total power output might be 200-400W. All crossovers and equalizations are pre-programmed to the amp.
German based car audio company Audiotec-Fischer has made BMW specific amplifier Match UP 7BMW that is in most cases plug&play for Hifi S676A option, but also for S674A Harman Kardon option for 1-, 2-series and i3. The amp has 7-channels and total 1290 Watts! of power with fully adjustable digital signal processor (DSP) and also includes mono RCA output for adding a subwoofer. More technical details can be found at manufacturers website -> HERE.
As for i3 there are no pre-made setups to download as the speaker locations are different compared to other BMW models. All setups will work and most likely sound ok, but some tweaking needs to be done with DSP PC-Tool program, that is also downloadable from Audiotec-Fisher's website.
Notice! Basic tools/knowledge of fixing cars and car electronics is required for the next steps.
Install
Pull off rear seat, open one bolt and unclip harness. And reverse engineer with UP7. Some metal cutting is needed for UP7 bottom plates bracket as it's too wide, but that is an easy job. After that it's plug&play.
Of course some tuning with PC-Tool software is needed. Software can be found -> LINK.
Speaker replacement
Front doors
There are 2-way component speakers at the front door, but the tweeters are located in A-pillars. Usually in BMW's tweeter wire is connected to the midrange speaker, but in i3 case the parallel wiring is happening somewhere else. There aren't much space for separate crossovers in A-pillars, so if you put in better speakers it's better have crossovers that are in between the speaker wires for example Ground Zero, Eton or Rockford Fosgate.
Stock Harman Kardon's are decent and tweeters produce quite wide soundband meaning crossover point is low and/or quite mild maybe 6dB/Oct. For some people metal dome tweeters are not the best option as the sound is little harsher than with silk domes. For this project we decided to test Eton B 100 components (not available any more).
Also some extra noise dampening inside the door panels with STP Black Gold and BiPlast.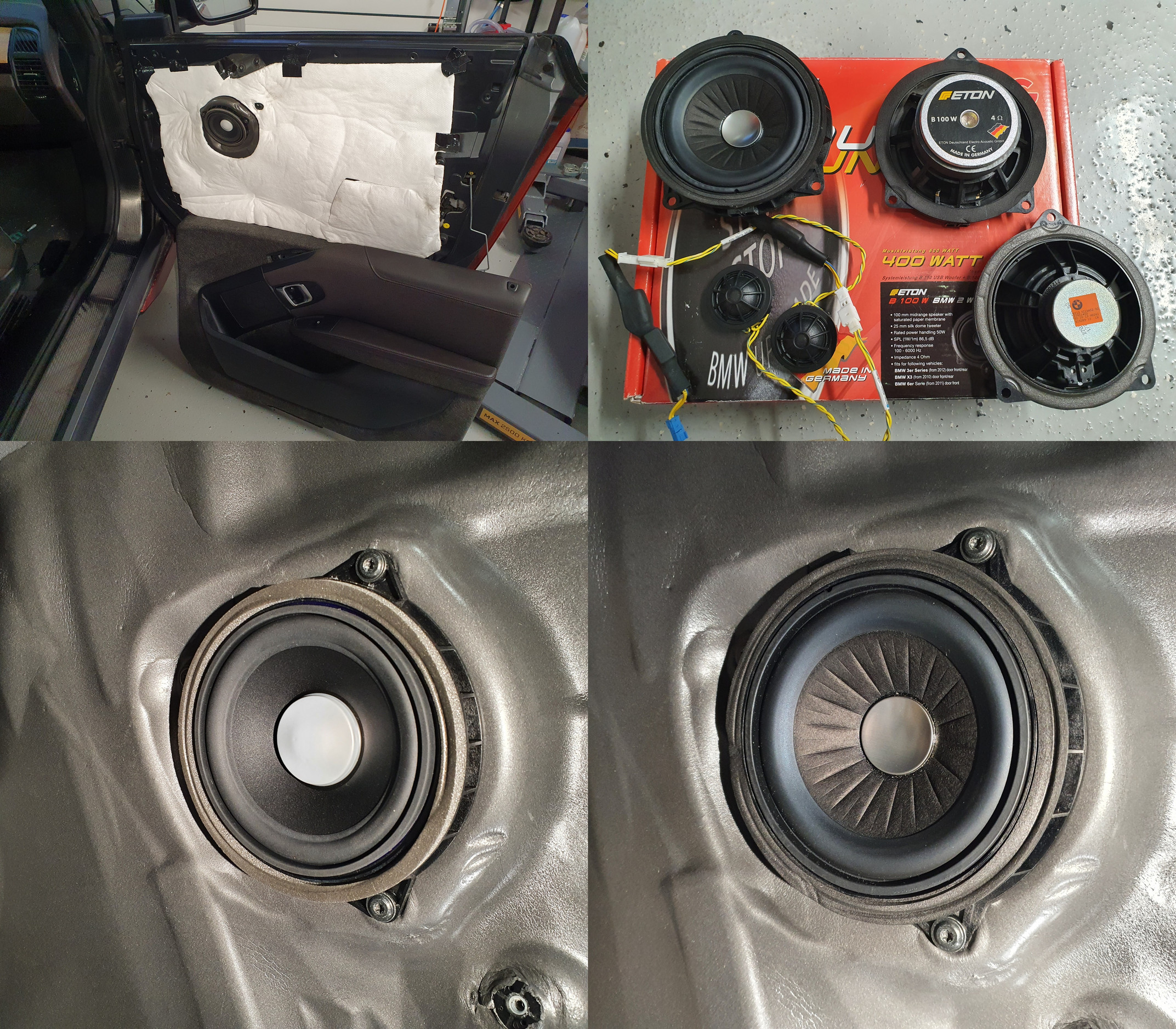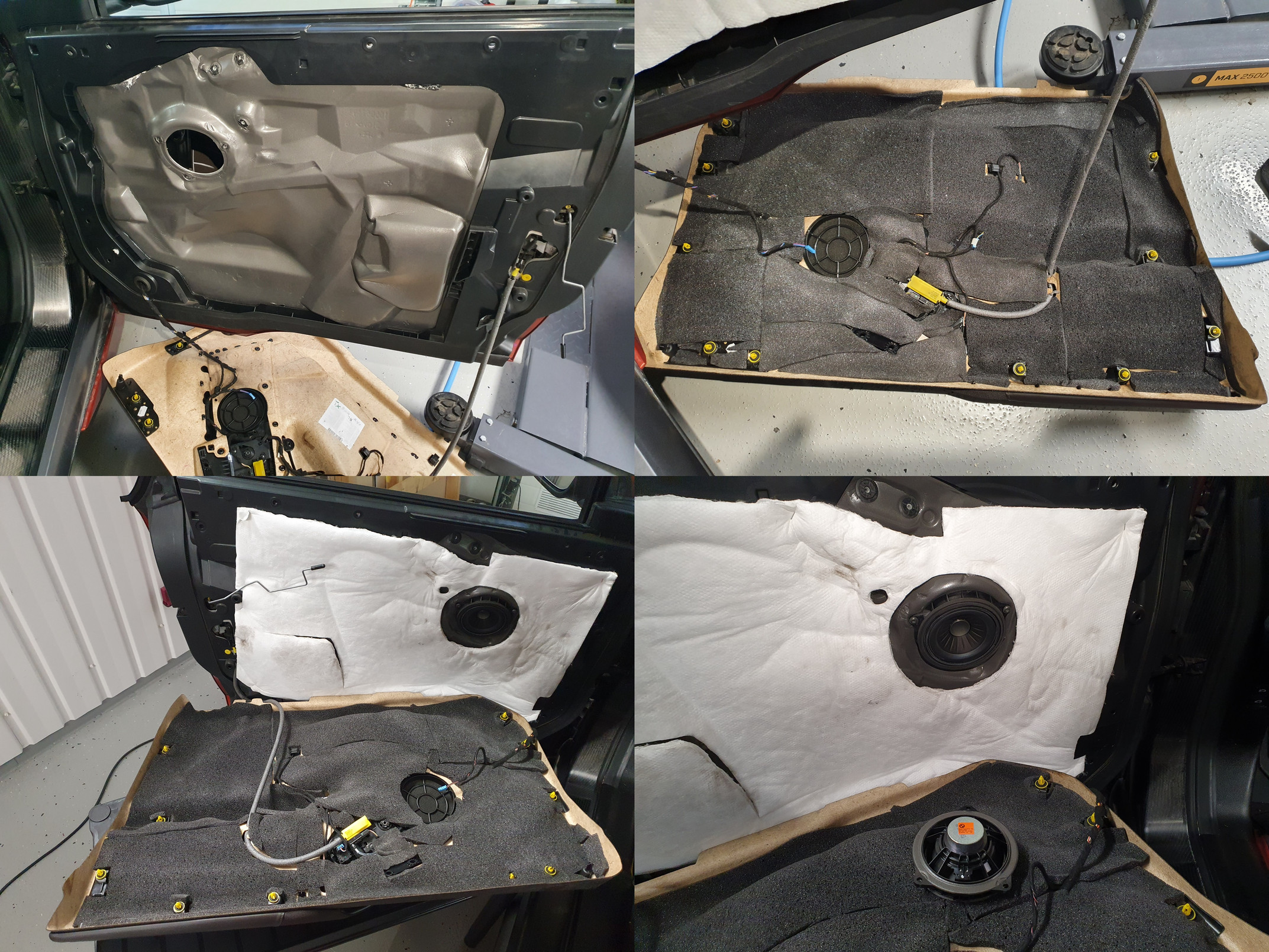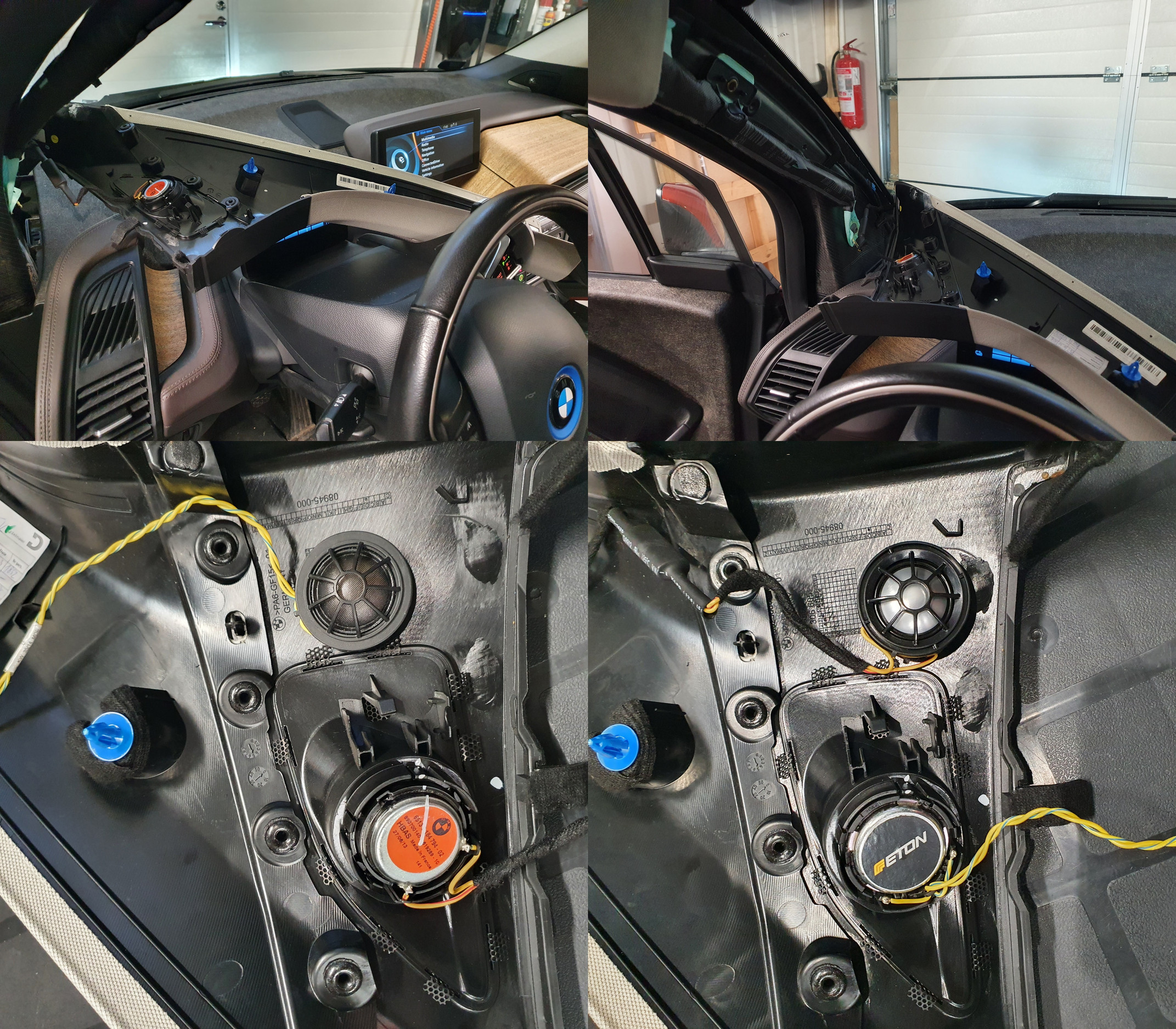 Front bass speakers
In Harman Kardon there are two kickwoofers in footwells that are 6 x 9" in size. Base audio has 6,5" and only difference is different size adapters, so it is possible to retrofit bigger speakers to base audio also (needs parts 65139283789 & 65139283790).
Replacing kick woofers is not easy job, but doable. Most of the trims under the dash needs to be removed and some grinding of adapters is necessary at least in this case. There are room for big magnets inside A-pillars, but basket needs to be slim at the top of the speakers, so speakers with die cast baskets won't probably fit. Or at least the outermost "horn" trim won't go into place. For this project we chose Audison AP 690 that are in most cases easiest to install to stock places and also cheap. Audison has made many speakers in Prima series as direct replacement of stock speakers. And because low power of stock amp or head unit, good sensitivity is needed. AP 690 has sensitivity of 95dB (1W/1m) and also good power handling of 100Wrms / 300Wmax for both stock and aftermarket amp installations. Frequency range is 40Hz - 5kHz and bass output is good with "triple wave" upper surround for maximum cone excursion. But if compared to stock speakers that has very loose surrounds it is clear that Audison's needs more power to get most out of those.
Stock Harman Kardon speakers compared to Audison AP 690.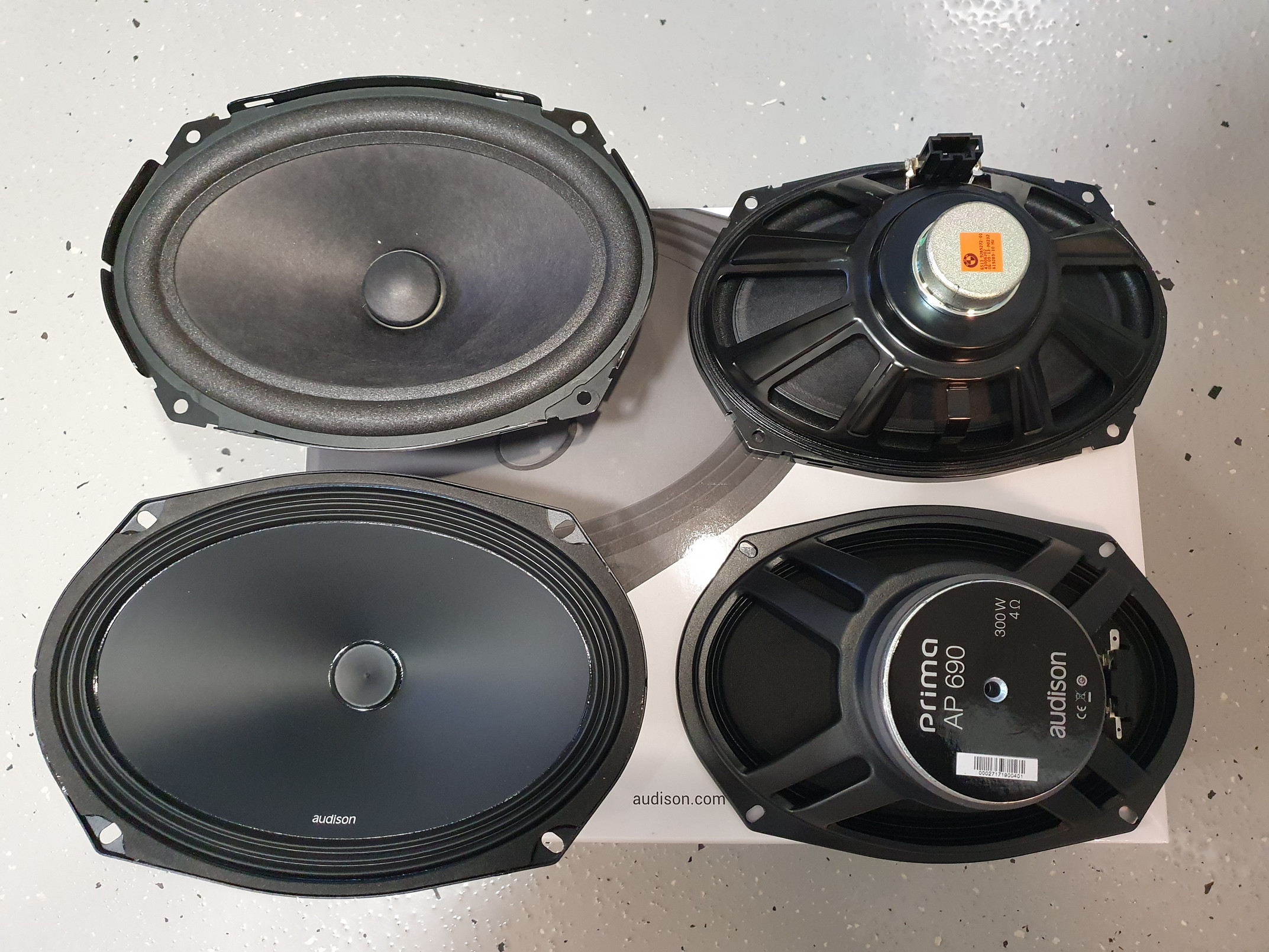 All the trims that needs to be removed.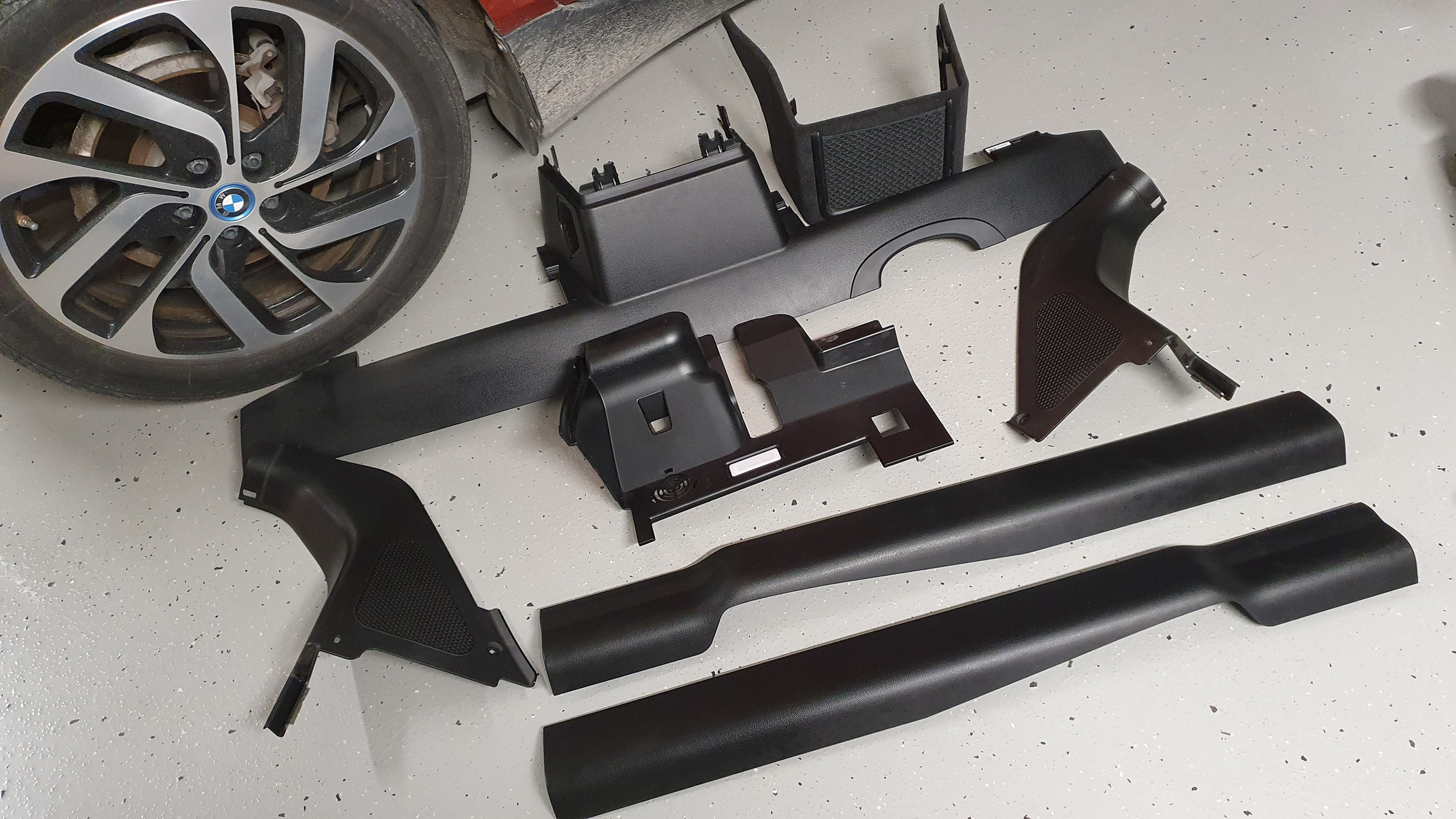 Installation of new speakers. Note quite thick padding under the carpet.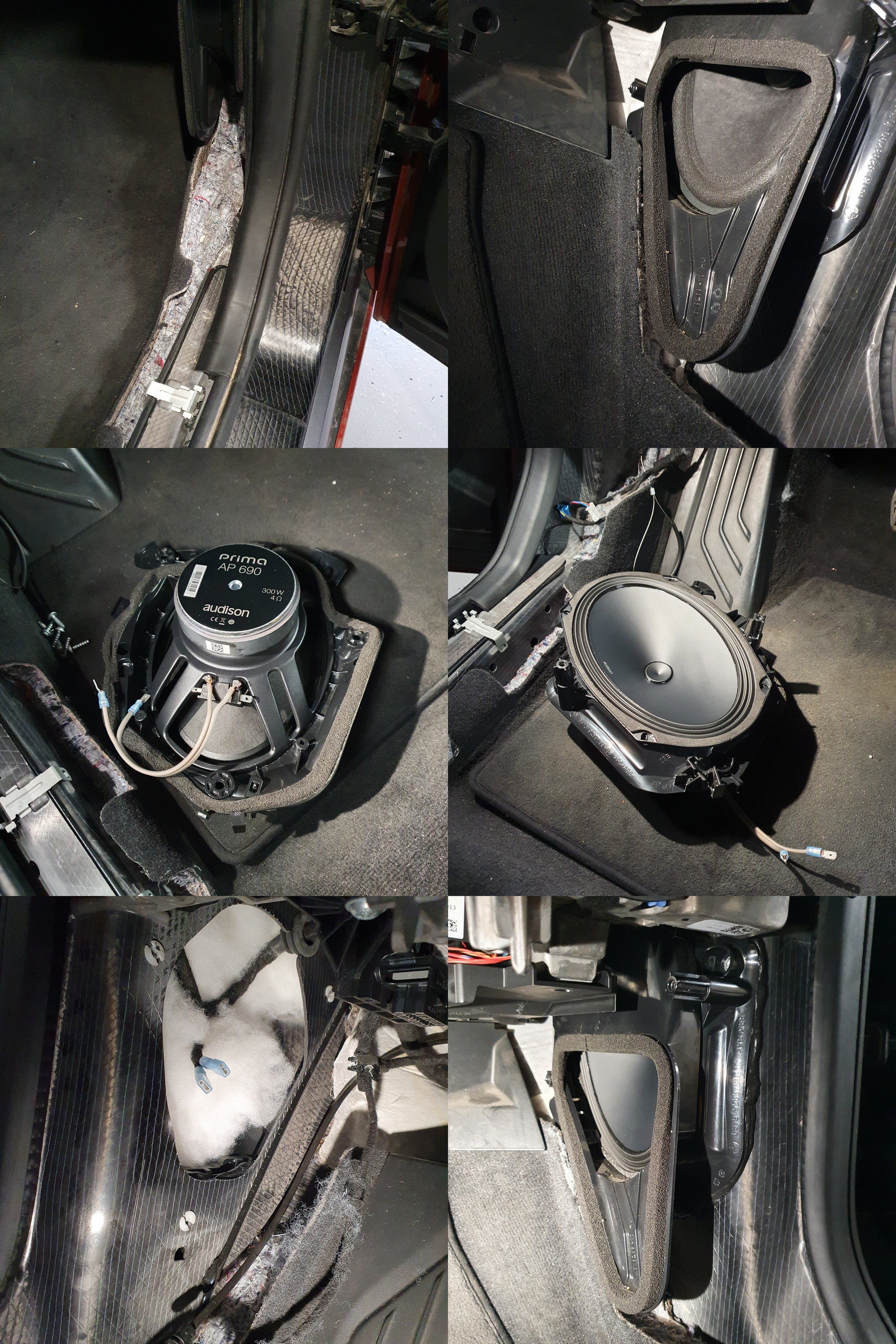 Rear and Center speakers
As the main sources of sound are the front basses and door speakers we decided not to upgrade rear and center speakers in this project - at least for now.
Adding a subwoofer
The most biggest issue about i3 audio is the lack off low bass. Carbon fiber cabin or the "Life Module" as BMW says is generally one big speaker box. Rigid structure means less rattles and soundproofing is also quite solid as stock.
i3 uses same Quadlock as all bimmers do around two decades. Head unit under the rear seat gives analog signal straight to amplifier or powers the speakers depending of the setup. HU is possible to code both ways and Match has ready harnesses and line converters to add a sub. Match UP 7BMW/DSP is currently the best amp in the market and easy to add also to base audio, but because lack of rear speakers there will be 3 extra channels. Two of those can be used to add for example dual voice coil subwoofer (2+2 Ohm). Other good amp is Match M 5 DSP MK2 which has 4 main channels and one for subwoofer.
Digital Signal Processor (DSP) is your best friend to good sound and Match UP 7BMW has quite powerful one. Direct swap for stock HK amp and just playing with computer to adjust sound is easiest option. UP7 has mono RCA output for extra amp or active subwoofer and also fully DSP adjustable. In this project we decided to add compact Audison APBX 10 AS2 active sub to the trunk. Some noise damping was made for rear carbon fiber engine cover and cloth trim. In i3 soundproofing is not so much lowering road noises but getting the inside more solid. Lowest frequencies travel across the chassis and are best enjoyed without rattles.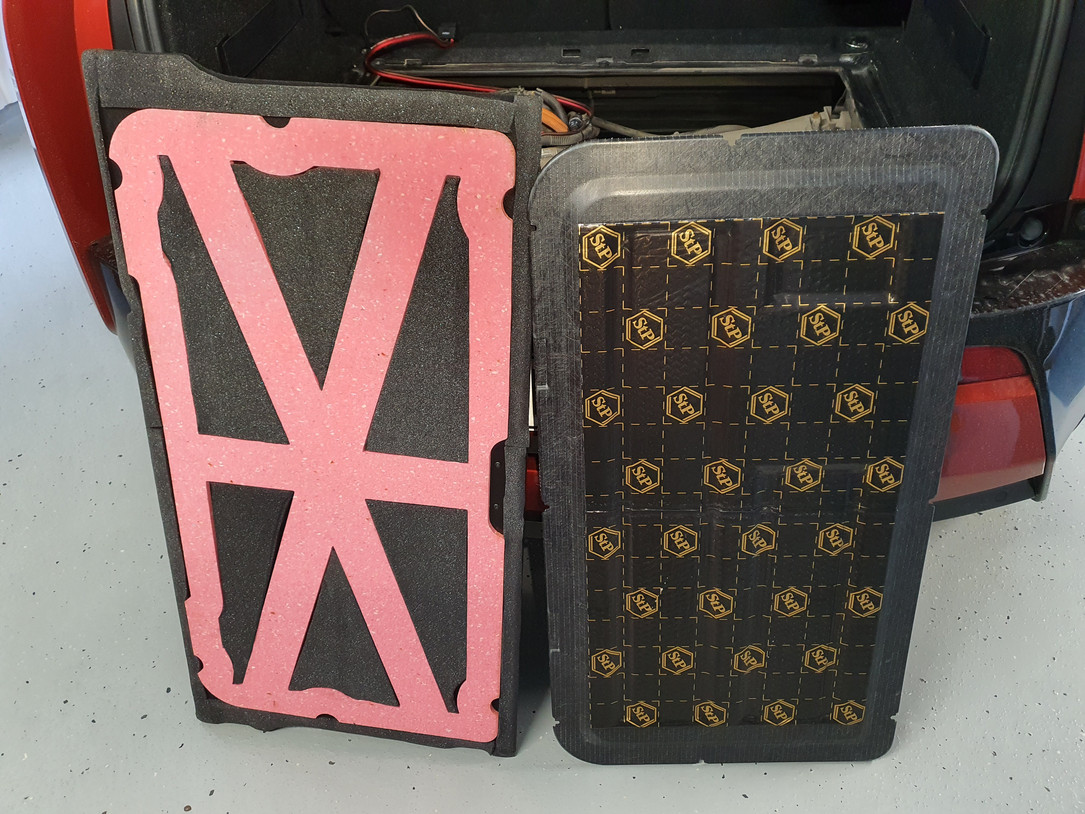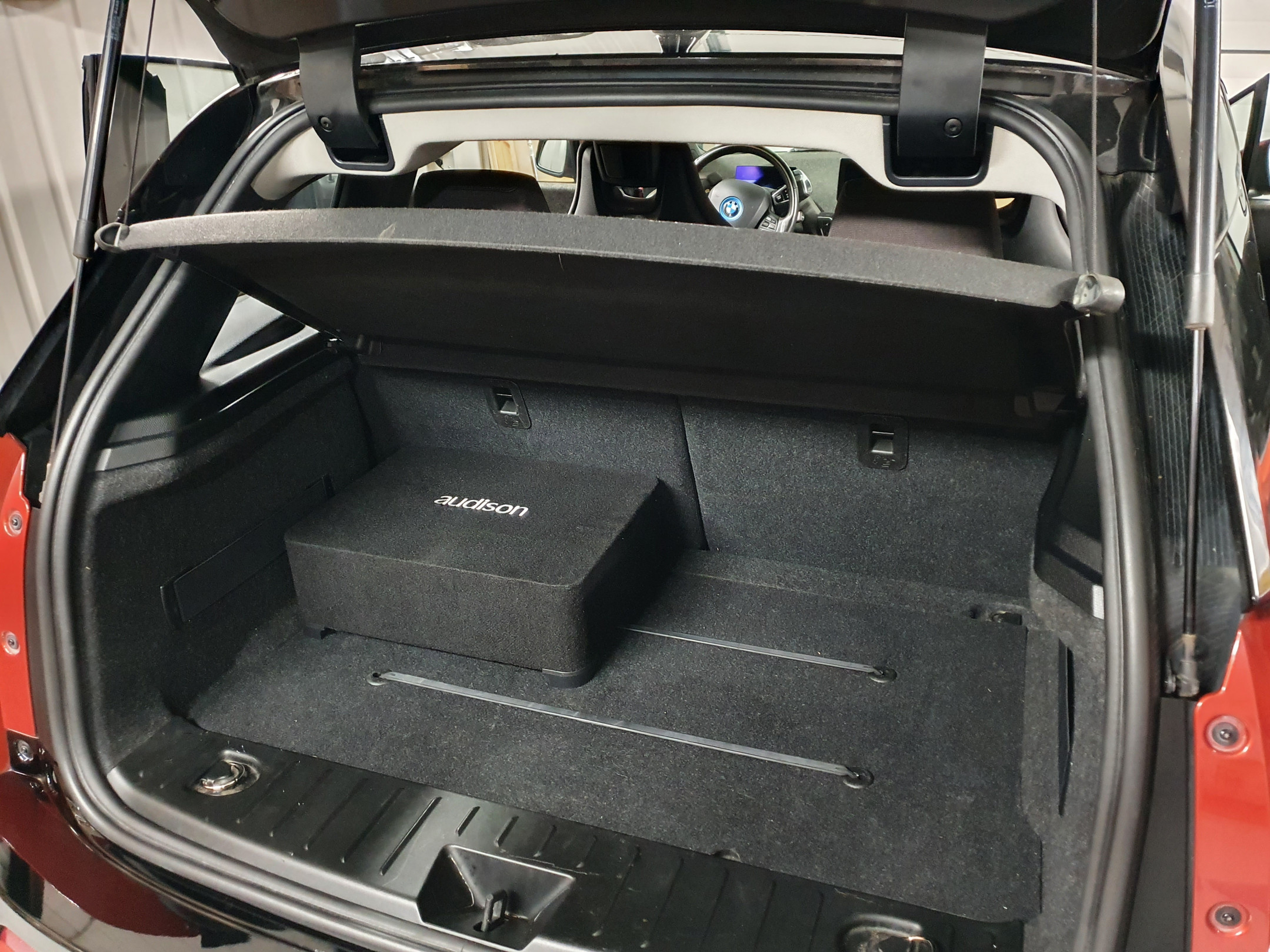 Audison comes with remote to adjust bass level. For demo purposes we also added Match URC.3 controller that can be used to adjust kickbass level and change sound setup.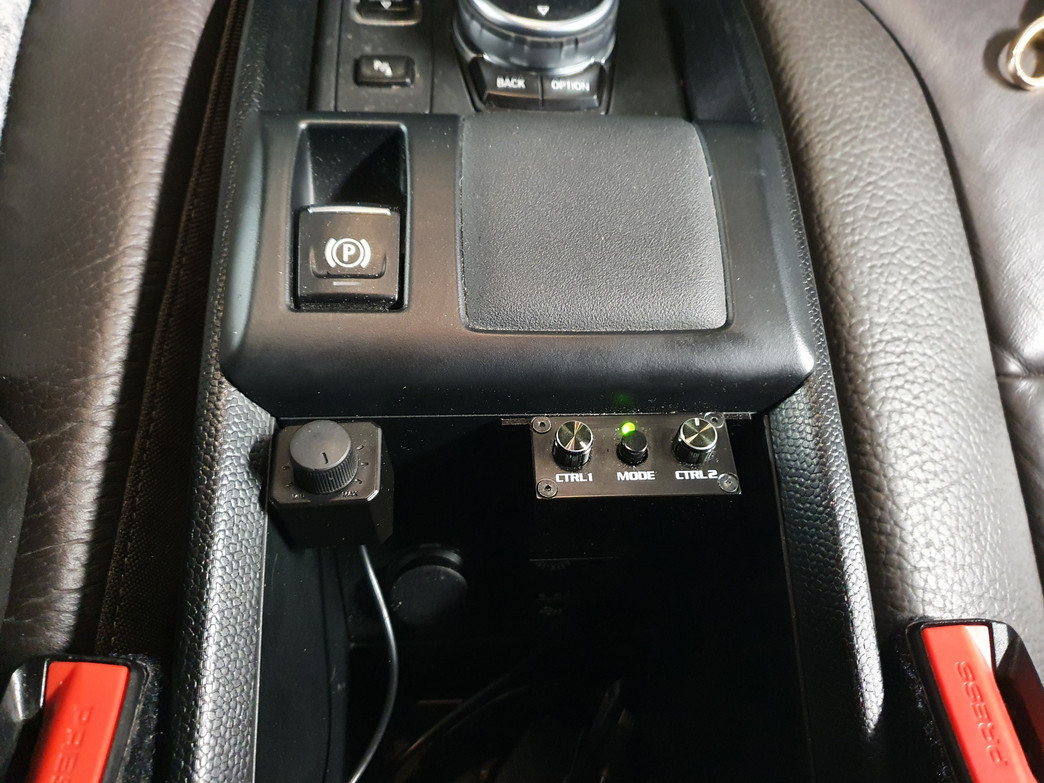 DSP tuning
Tuning was done with Audiotec-Fischers PC-Tool software using provided sound files for time alignment and frequency measurement (pink noise fo latter). Both files comes with software as .WAV format and can be played via USB stick. For measuring Match/Helix MTK-1 microphone was used as it integrates directly to the software and can do some adjustments automatically.
First all Inputs and Outputs must be assigned (IO page). Easiest way to get everything almost ready is to download one of many ready made DSP setups from Audiotec-Fishers website. All setups work with i3 because only difference is size and location of bass speakers. So without microphone you can test which sounds best. For this project we assigned high- and low-pass filters manually and good values are:
2-way component front, rear and center speakers: High-pass Butterworth 12dB/Oct @ 125Hz
6x9" kickwoofers: High-pass Butterworth 12dB/Oct @ 70Hz and Low-pass Butterworth 12dB/Oct @ 150Hz (without subwoofer HPF (or commonly called as Subsonic filter) for example deeper 36dB/Oct @ 35Hz)
Subwoofer: Low-pass Butterworth 12dB/Oct @ 70Hz
These settings are quite normal and mild with setting up car audio systems and won't affect so much for example phase, so sound is generally as it should be. Different settings can and should be tested depending of the speaker setup.
Next step is to set up stereo image to the driver. This procedure is just recently been automated using a test signal and microphone.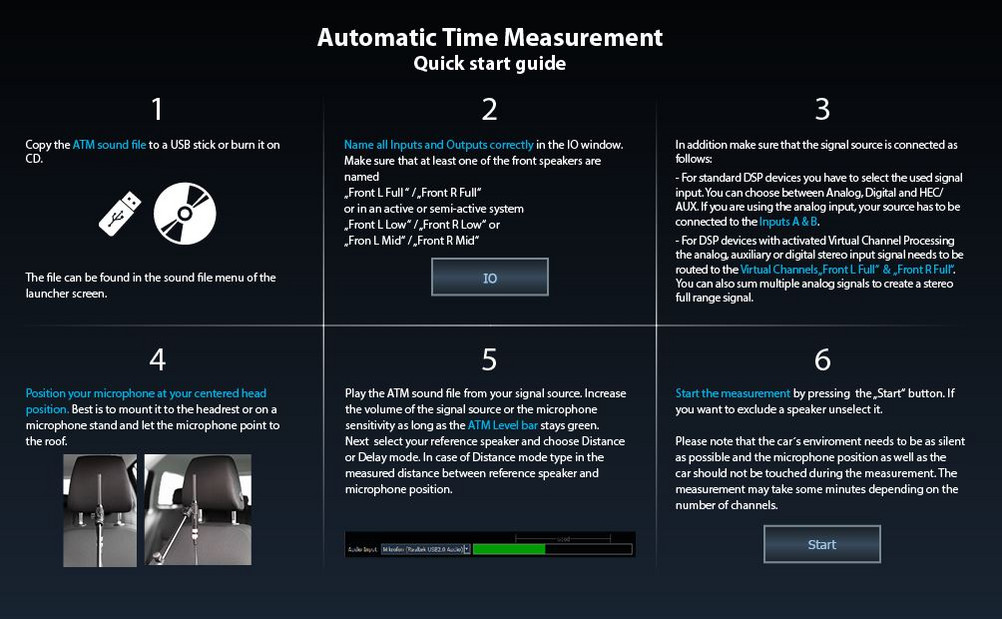 After verifying with real music that vocals are coming directly in front of you, it's time for Pink Noise rock'n'roll. Definition of Pink Noise: "Pink noise or 1⁄f noise is a signal or process with a frequency spectrum such that the power spectral density (power per frequency interval) is inversely proportional to the frequency of the signal. In pink noise, each octave interval (halving or doubling in frequency) carries an equal amount of noise energy".
Main idea is to measure how much speakers puts out noise in each octave and correct that using DSP's equalization properties. iDrive's Bass and Treble does the same thing but in wider scale. Match UP 7BMW has very powerful DSP properties that allows sound waves coming from speakers to be adjusted just like it's meant to be heard when recorder at the studio. Ideal sound output with pink noise is generally flat, but inside the car things are little different because of the road noise for example. So bass frequencies need to be boosted a little. Optimal frequency response is good but some people may find it lack some punch, but that's where bass remote and iDrives Bass and Treble adjustments come along. In stock setup those need to be pretty high for even decent output, but with all measured and adjusted with DSP there's so much room for more.
When talking about music - sound is stereo. So most important speakers are left and right door speakers and of course those include tweeters in A-pillars. So first step is to measure and adjust the sound output of those using pink noise. Rest of the "high frequency" speakers (rear+center) should be adjusted so that those don't interfere with output on "main" speakers. Fader should be set about 3/4 to front and center speakers level few decibels lower. UP7 has "real center" algorithm that it won't interfere much for stereo image and it helps to give decent image to the co-driver. Not perfect but at least music isn't coming from far right as with just door speakers when focused to driver. Rear speakers helps so that sound has more "air" into it like you are surrounded by music. And of course you can adjust fader more to the rear when passengers want some of it.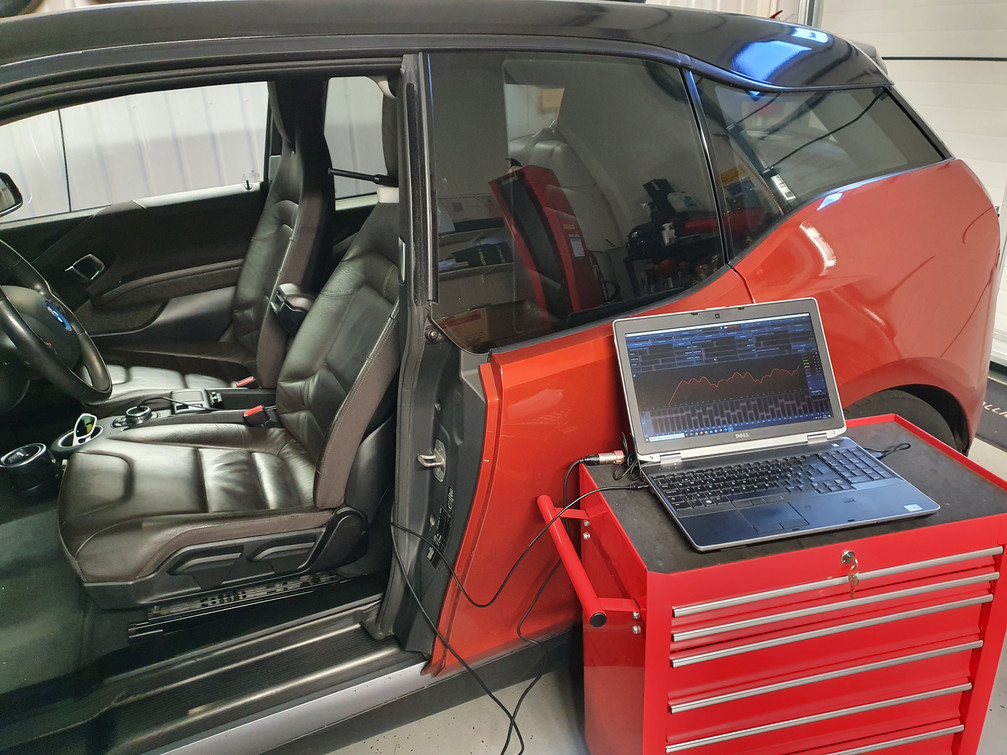 Final frequency response with slightly boosted bass. Gray line is the Match / Helix standard for cars but you can adjust to your liking. Main idea is to not have dips and peaks. And afterwards Bass and Treble will have huge impact to adjust as you like.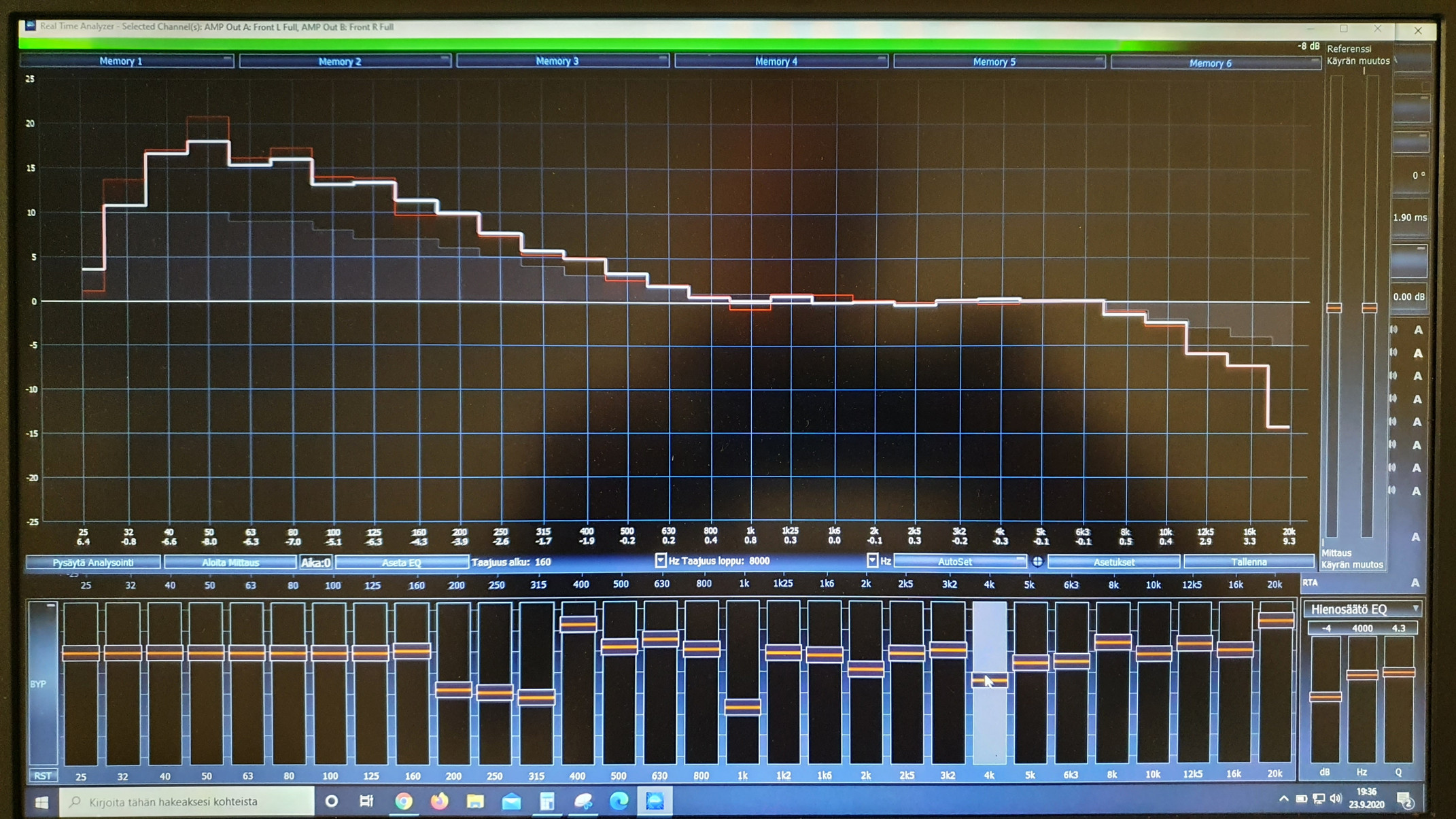 Overall sound?
Pretty much what you want. Good speakers, some soundproofing and most importantly amplifier can make your car sound great. Stock speakers are very high quality and capable. Stock amp lacks some output and adjustability, so more power and signal processing like Match UP 7BMW delivers the most. Of course there is always possibility to go beyond. It's all about your choosing and budget, but for Audio Upgrades BMW i3 is as good as it gets. Carbon fiber body is like a big speaker box and combined to silent ride is pretty good reason to make your car sound great. Or better take it to a professional who can make it happen.
Most of the i3's and i3S's are equipped with standard stereos. Harman Kardon as option is some $ on top of $$ car when bought new. Today i3 starting price in Finland is ~40.000€ and you can choose options to around 55.000€, so why do you choose audio system that is pretty pricey when it comes to above all that. So in future project and BLOG story we will focus little deeper on enhancing BMW i3 Base Audio...
Audio components used
Amplifier - > https://www.audiokit.fi/tuote/match-up-7bmw
Remote -> https://www.audiokit.fi/tuote/match-urc3
Door speakers - > Eton discontinued. Currently good options are Morel IP-BMW42, DSL CRPP-BMW1.4 and also Audison K4E (tweeter covers need to be removed)
Bass speakers -> https://www.audiokit.fi/tuote/audison-ap-690-midbassot
Active subwoofer -> https://www.audiokit.fi/tuote/audison-prima-apbx-10-as-aktiivisubwoofer
Base Audio tips
Signals can be tapped with Match adapters to for example Match M 5DSP MK2 amplifier:
Amp -> https://www.audiokit.fi/tuote/match-m-54dsp (Note! In high power mode separate 12V power and ground is needed)
T-harness -> https://www.audiokit.fi/tuote/match-pp-ac-13a-adapterijohto
Amp harness -> https://www.audiokit.fi/tuote/match-pp-iso-1m-kaapeli (need to remove and use amp's thicker power & ground in high power mode with subwoofer)
For speakers it's easiest to use 2-way coaxials in doors or buy Harman Kardon A-pillar trims from BMW for components. Good fit bass speakers are Audison AP6.5 (2ohm without amp and 4ohm with amp). AP690 can be used if HK adapters are used.
International customers! It's possible to order from our webshop to EU (Stripe, prepayment via bank transfer or PayPal). Outside EU price it tax free so if any question or want an offer please email: info@audiokit.fi
- Kimmo / Audiokit